The Moghul Room: Fantastic Indian at Oberoi's Magnificent Mena House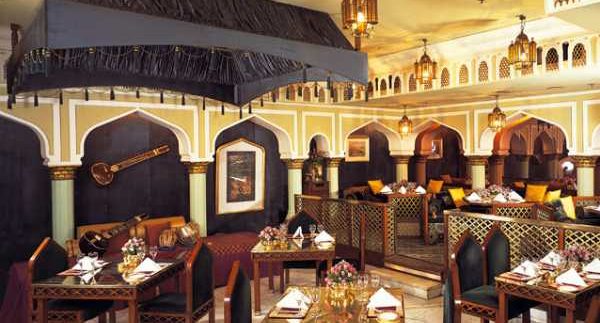 In a
spectacular location in the shadows of the great pyramids of Giza lies what was once Khedive Ismail's hunting
lodge, and is now The Mena House Oberoi Hotel. With its gilded and chandeliered opulence, one would expect nothing but
greatness from this fabulous venue, and we're happy to report that it did not
disappoint.
The Moghul Room is just one of the hotel's seven
restaurants and is widely celebrated for serving Cairo 's best Indian cuisine. Walking
through the hotel's halls is breathtaking and had us craning our necks and gaping. Located on the first floor, the Moghul Room
greets you with a display of floating rose petals, a mixture of spices behind
glass, and various other Indian-inspired touches that add to the mystique.
Reservations are
hardly necessary as the place was more empty than full at the time of our
visit. Politely escorted to our engraved
metal topped table with matching Aladdin oil lamp, we were seated in exotic
benches and cushioned chairs, and were delighted to find that the menu seemed
well-rounded and interesting. Being
spoiled for choice made it hard to decide, but we ventured to try the kadai paneer (53LE) , chicken murgh makhani (98LE), and lamb roganjosh
(106LE), with sides of saffron rice pulao (45LE), and naan bread (15LE), both garlic
flavoured and plain.
Starting
with a complimentary course of two samosas and popadoms with four delicious
sauces– tamarind, mint, chutney and pickled lemons– primed our taste buds for
the aromatic courses to follow.
We
were not prepared for the kadai
paneer's wonderful marriage of flavours; made with savoury tomatoes, crunchy onions,
green peppers, fenugreek, cilantro and homemade dry cottage cheese that was
much like a good stir-fried tofu. The
heavenly mix was incredible, and what the waiter had described as a 'small
bowl' happily fed two and had us wondering how we'd finish the rest of the
meal.
The chicken murgh
makhani (aka butter chicken) was also divine in a creamy, richly flavourful curry
sauce that was smooth rather than chunky and temptingly drinkable. Likewise, the lamb roganjosh was bursting
with the flavours of cardamom and spice, complimenting the rich taste of the meltingly
tender pieces of meat.
A small portion
of saffron rice with almonds, raisins, cloves, cinnamon and cardamom was good
but could have been better, though the fresh and densely chewy naan made up for
it. We could have done without the
bitter virgin Appletini (25LE) with lemon juice, but a delightful dessert
rounded out our experience in the form of Indian ice cream– pista kulfi (37LE)–
a reduced milk ice cream with pistachios and mastic, which was chewy, sweet,
milky and fabulous.
The restaurant is
small, expensive at over 500LE for two, and inconveniently for us located in
Haram, but the service is prompt and helpful and the fantastic food and setting
are definitely worth making the trek to the Mena House.