Windows on the World: Ramses Hilton's Lesson on Average Food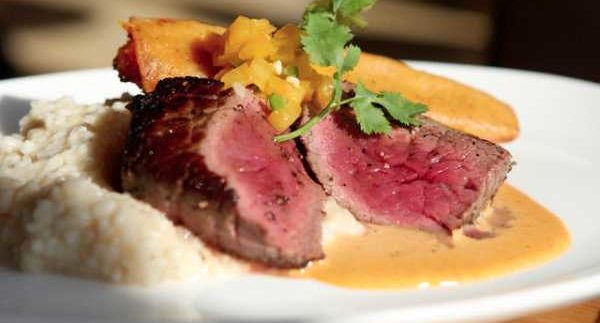 Cairo has no shortage of restaurants and lounges offering gorgeous and
breathtaking views of the city skyline; so do forgive us if our anticipation of
what Ramses Hilton's restaurant Windows on the World had to offer was less than
breath-baiting.
Nonetheless, the view did take our breath away for a second. Perched in
a circular atrium on the hotel's 36th floor, the glass walls offer a sweeping
landscape of ant-shaped Cairo traffic. The restaurant is most enchanting when
visited at dusk, when the car lights glow like embers as traffic snakes through
Ramses Square. The ambiance is decidedly more elegant than anything found in
the hotel's other venues, while service is prim, polite and prompt to the tee.
Much like the restaurant's elevation, prices here are lofty; over 250LE
for a simple tenderloin entrée is proof. Convinced that the lofty prices and
seamless service meant that the kitchen cherished quality in simplicity, we
ordered a starter of stuffed mushrooms from the hot appetiser section.
Whisked to the table along with a basket of soft bread rolls that were
fresh but not warm, the mushroom tops were pleasantly seasoned with pepper and
oregano, and topped with melted white cheese.
For our entrées, we selected the chicken breast brazed in a goat's cheese crust,
complemented by steamed and sautéed carrots, zucchini and broccoli (around
160LE), and a seafood entrée of sea bass and shrimp (around 190LE). Like the
preceding appetisers, these arrived in good time.
The sea bass was seasoned with citrus notes, nearly boneless and grilled
to tender perfection. The shrimp was lightly seasoned with garlic and flash-fried
with enough tenderness to give the meat a refreshing bite. While the chicken
was well-prepared, we were disappointed by the absence of any goat cheese and
herb crust. Instead, the alleged goat's cheese was
no more than a transparent glaze, with no evidence of the usually strong goat's
cheese flavour. The serving of two generous, high-quality but slightly bland
morsels of chicken breast with a paltry side dish of steamed vegetables was
still tasty, despite lacking the grandeur that we had been expecting.
Moving on to the desserts, we selected a multi-layered chocolate mille-feuille
creation, with chocolate glaze, mousse filling and rich cocoa variations. Our
second choice of the apple crumble was a gelatinous, overly-sweet concoction.
The accompanying vanilla ice cream was appreciated, although a mysterious pink
mousse (strawberry-flavoured?) was abandoned after a tentative taste. Also on
the dessert menu was a mango mousse with berries that may have fared better for
our table.
Still, Windows on the World's view, muted ambiance and impeccable
service outshone the questionable dessert and only just above-average cuisine;
making it a dining experience to look back on fondly, although paying well over
500LE for a meal, without even picking up the wine list, made it a slightly
less pleasant experience.