Al Kotob Khan: A Place for Book Lovers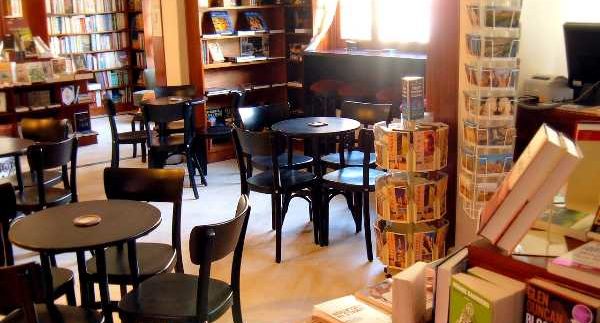 If you often feel
the urge to escape the noise of Cairo,
heading to Al Kotob Khan may be the solution. Al Kotob Khan is unlike any
typical bookshop that you will find in Cairo. This bookshop regularly hosts different activities, such as book discussions, movie nights,
storytelling for kids and various workshops.
Al Kotob Khan is so far the biggest bookshop in Maadi. Founded
in 2006, the bookshop aims at providing readers with a quiet, relaxing and cosy
atmosphere, with plenty of space to recline.
The staff at Al
Kotob Khan are very welcoming; and if you're quite an avid reader, you'll feel
that you've become a member of the family. Once you've chosen a
book, you can always sit at the coffee corner, and enjoy the soothing music and
a cup of coffee while reading a book. You can also bring along your laptop and
use their Wi-Fi connection for free if you need the internet.
The bookshop
includes a café with all kinds of foods and beverages, including paninis that
vary from 10LE to 25LE (depending on the size), snacks starting from 7LE
upwards, water for 5LE, sodas for 10LE, and espressos for 13LE.
The bookshop is
well-stocked with a variety of books
in different languages and genres. Part of the shop has been expanded to include a section
for DVDs, CDs and videos and a stand for different sizes of the Koran. The art
section includes books and interesting art accessories. During our last visit, we spotted was an Andy
Warhol pop box, which included copies of items owned by the artist and a free
ticket to his museum. So whether it's poetry, Ancient Egyptian History, fiction
or non-fiction that you're seeking; it's all there. Also, next to the entrance
door and on a bulletin board inside, you will find lists of bestsellers, recommendations by the bookshop and new releases.
They have
a very colourful kids' area, which is filled with children's CDs, DVDs and
illustrated books to buy or read in the store.
Something that
also separates Al Kotob Khan from its contemporaries is the variety of items on
sale that cannot be found anywhere else. You will find a set of exquisitely
decorated and handy notebooks for about 40LE, some of which have the kheyameya colours
and designs; in addition to calendars, postcards and sketchpads as well as gift
bags and posters. There is also a shelf full of magazines right behind the door,
including local and foreign press.
So whether you're
looking for a book or just window-browsing, take some time to sit and relax at
Al Kotob Khan and enjoy a whole other world before returning to reality.