Alwan: Buy Your Art Supplies in Zamalek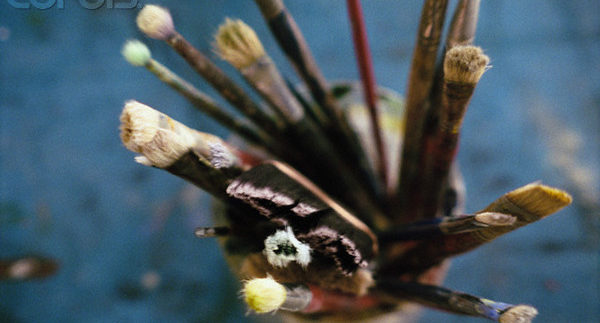 Cairo can be an elusive city. It's not a city you can easily manoeuvre through using the internet and a shop's merchandise is not as obvious as it should be. They don't promote their stock properly, nor are they dependable in what they actually offer; don't be surprised to find a pharmacy out of vitamin C, for example. Why, you ask? Because that's just the way it is. If you're looking for art supplies, though, Alwan in Zamalek is probably as dependable as they get.
Conveniently located across from the Faculty of Fine Arts on Ismail Mohamed Street, Alwan is as an art shop should be: crammed, shabby and full of bursts of colour. From large Canson sheet paper (A4, 25LE), portfolios and canvases to paper shredders (300LE for a small one), organisers and air-brush kits (850LE for a small one), everything can be found here.
Sitting at a checkout counter that is complemented by a wall of hand drawn caricatures behind it, the staff tend to leave you to browse at peace. Because there seems to be no order to the supplies, asking for help or direction might be needed, which will be given efficiently and amicably.
Spreading over two floors, it will probably be the lower one that's of more interest seeing as the upper level is dusty, bare in comparison and carries outdated products, such as a 2007 organiser. Regardless, it also carries portfolios (about 45LE) and larger canvases – a 40cmx40cm one costs 25LE and a 100cmx100cm one goes for 90LE. Distributed along the stairs are more canvases that come in different shapes like circles (30LE), hexagons and triangles (24LE for a small one).
If you're looking for quality art pads, you can find the 100% cotton fibre Arches Aquarelle Watercolour Blocks. Although the collection isn't huge, there are still a few different sizes with a 23cmx31cm one costing 170LE.
Mostly Pébéo, the paint selection in Alwan is generous. Chinese, acrylic (10LE), acrylic for wood, baked clay, plastic and ceramic (27LE), gouache, watercolours, porcelain and finger paints fill up a whole aisle. You can also pick up modelling clay in a variety of colours as well as oil and chalk pastels, which cost 15LE individually or spend about 66LE on a box.
Naturally, Alwan stocks paint brushes in all their variable shapes and sizes with prices ranging between 20LE and 120LE – you can also find modelling tools.
As well as art supplies, Alwan has extensive stationary items as well. Notebooks, Blu-Tac, Post Its, a range of pencils, scissors, sharpeners and so on. They had a nice choice of markers with colours like purple and pale turquoise (6LE) and the same goes for their whiteboard markers which also came in a set of more interesting colours (22LE). You can even find Rubik's Cubes for 5LE.
Next time you decide to try your hand at painting, or are an artist in need of a specific supply, be sure to pass by Alwan; it is probably of the best you can find locally.