Femme Rochas: Unassuming Jewellery Shop in Zamalek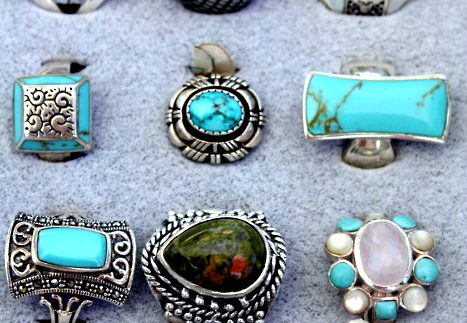 Most likely to be overlooked on the street; barely
noticeable amongst the crowd of similar looking shops and the bustle that
defines Brazil Street in Zamalek, jewellery shop, Femme Rochas, caught our eye
with a display of colourful stoned necklaces and interesting collection of
rings.
The shop itself is considerably small but somehow manages to
carry an endless number of products from floor to ceiling, as well as filling
the glass vitrine. It is generally a jewellery shop, with items such as
necklaces, bracelets and earrings. However, in typical fashion to local shops
of this type, there are also a number of random house accessories such as mugs,
decorative boxes and some questionable looking animal figurines.
Coloured beaded necklaces come in different sizes, in either
single strands or double; the most expensive of these necklaces goes up to
about 400LE. Also ranging in that price are pendants, adorning a single stone,
that come in a variety of colours. A beautifully dreamy sky blue one went up to
400LE but smaller ones, equally pretty, are sold at an easier range of 75LE –
which is a considerable jump in price. There's a large collection of earrings;
silver ones or ones with raw-cut stones, as well as more modern designs with
hearts; they are sold at an affordable price between 35LE and 45LE. Bracelets
made entirely of the Turkish evil eye were the least pricey item, at 20LE
apiece.
After dabbling for a while with different accessories, we
were very pleased to come across what could be considered the hidden gems of
the shop. The owner sells authentic Turkish and Indian rings that would have
easily gone unnoticed had we not had the patience, or the motivation, to find
them. Although their collection is the smallest, these rings are definitely the
highlight of the shop. Mostly with purple and blue stones, the workmanship is
quite intricate and sophisticated – at least in comparison to our locally made
ones. However their prices are definitely on the higher end, costing about
300LE to 400LE.
As well as the jewellery, Femme Rochas has few house
decorations. Varying sized boxes made of ivory with a velvet inlay are very
reasonable with the largest one costing 125LE; they also have delicate oil
incense holders made of glass for 25LE.
Originally a women's clothing shop, turned perfume shop,
turned knick knack shop, Femme Rochas can't be described as original. However,
its full collection of earrings, necklaces and rings makes it a sensible stop on
the path to freshening up your accessory collection.