Kerdani: Modern Home Furniture with Oriental Accents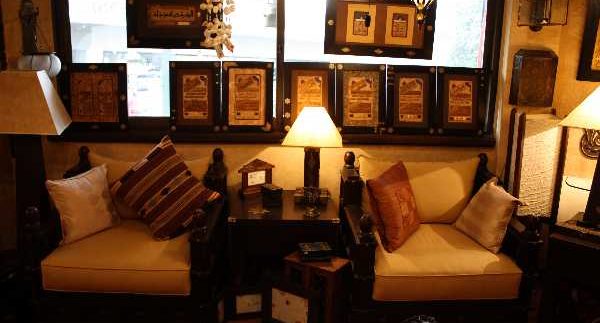 Most people in Cairo
feel the need to choose between decorating their homes in an ultra modern way
or in a traditional oriental way, but why not have the best of both worlds? If
you're looking for a place that successfully pulls off a beautiful fusion of
the two styles, check out Kerdani in Heliopolis.
This little corner shop is filled with lots of home decorations and basic
furniture pieces.
Upon stepping into the shop, you'll notice the oriental-meets-modern
style immediately. Pillows made of Bedouin fabric are placed on big and comfy armchairs.
Papyrus with hand-inscribed Arabic calligraphy is set in fashionably modern
frames, and there's just the right balance of functional contemporary home
furniture mixed with traditional Egyptian details.
Kerdani carries great lighting fixtures. The first
item in the shop that will attract your eye will probably be the huge
chandelier made in a medieval Arab style that is hanging in the main showroom. Scattered
all over the shop are Kerdani's variety of Arabic-style lanterns. Contemporary
and sleek lanterns sit beside vintage-style lanterns that look like they belong
in Old Cairo.
Wooden tables have subtle oriental accents of
geometric bronzes fixtures welded into the corners of the table. On some of the
coffee tables, you'll even notice a very simple flower made of triangular
shapes. The effect is original and adds that special something to simple wooden
furniture. There are plenty of interesting vases, perfume bottles and ashtrays
on the tables to coo over as well.
The walls are covered with frames of hand-written
Arabic calligraphy, quoting uplifting phrases like, 'Life loves those who love
it.' There are also similarly styled frames of Koranic script. Be sure to catch
sight of the framed Bedouin necklaces that grace the staircase. They're a great
piece that will make any room stunning.
You're probably thinking that it doesn't get any
better than this, but here's even more great news: prices at Kerdani are
affordable! Grand chandeliers of varying sizes range between 2000LE to 3500LE.
Breakfast tables for four people with oriental bronze accents cost around 1750LE
and chairs go for 550LE each. Other accessories like carved frames, African
masks and vases are all under 500LE.
It's clear that Kerdani has an appreciation for the
various sources of inspiration that Cairo as a city draws from. From
extraordinary brass trays with beautiful geometric engraving to African
masks that come in a variety of colours, Kerdani is making the traditional hip
again.