Lacoste: The Same Prep, Now in Cairo
8 Lebanon St. Mohandessin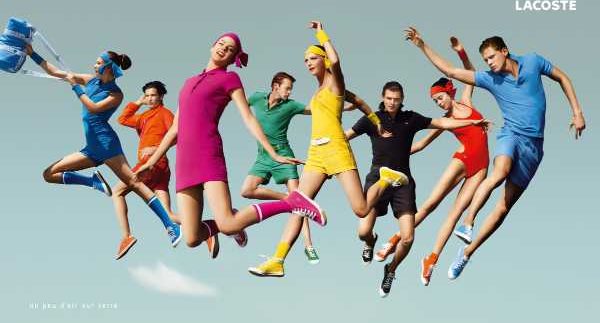 Pale pink polo
shirts, white trousers and canvas tennis shoes– this was the Lacoste 'uniform'
that defined the 80s prepster generation. Now, 30 years later, after a few hiccups in the 90s and a new designer, Lacoste
has re-established itself as one of the top retailers of high-end sportswear,
and one of the top three retailers of preppy casual wear with Polo Ralph Lauren
and Tommy Hilfiger.
Before the polo
shirt became the polo shirt, it was a tennis shirt, and the first of its kind
was designed by none other than seven-time Grand Slam champion René Lacoste. He debuted his shirt on the court in 1926,
added the alligator logo after his nickname in 1927, and in 1933 when he
retired from the sport, began manufacturing the shirt for wide distribution
with his friend Andre Gillier, who was also president and owner of the largest
French knitwear manufacturing firm of the time. The company 'La Chemise Lacoste' was born.
What began with a
simple white shirt has now grown to a fashion franchise that includes footwear,
perfume, leather goods, watches, eyewear and tennis shirts in every colour, in nearly
1000 stores around the world.
Lacoste's Mohandiseen
branch is typical of the same products and layout as you would find worldwide. Housed
on two levels with men's wear on the first floor and women's and children's on
the second– therefore strangely stocking more men's than women's clothes– the
store is sparsely stocked with polo shirts, jeans, canvas bags and shoes, with a
few variations in style and colour.
Classic women's
jeans retail for 600LE, a striped canvas tote bag around 430LE, canvas shoes are
for around 350LE. Jelly shoe slip-ons that look alien in transparent-moulded
red rubber are for 230LE, and the classic Lacoste tennis shirt that started it
all, sells for a whopping 730LE. Seven
hundred and thirty pounds for a t-shirt with an alligator on it– wow!
It shouldn't take
you long to browse through the store; either you like their sparse and basic
stock (and can afford it), or you don't. The salespeople are nice and seem to know that they cater to a very
specific market; so they won't hold it against you if you leave empty-handed. And if their new designer Christophe Lemaire
has created a more modern, upscale look; there was no evidence of that to be
seen. In any case, prepsters; have no
fear, there indeed is a Lacoste here and it will satisfy your polo dependency
to the tune of nearly 800LE– rejoice!