Orange Square: Menswear for All Occasions in Heliopolis
Hassan Sadeq St., Behind Baron Palace, next to Azza Fahmy and Makani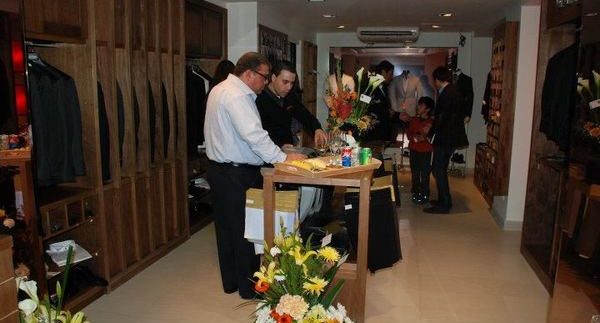 With the wedding season upon us, many men are dusting off their suits or
cruising the malls for the seasons' latest nuptials. As Orange Square opens its
doors, Heliopolis residents can now have an alternative to navigating large
malls for wedding attire.
Their outlet behind the Baron Hotel in Heliopolis sports a large window
display and a well-organized interior. The collection includes everything and
anything a man could need for formal – and often less formal – occasions.
Their new collection includes summer suits, available in a variety of
colours and fabrics. These range between 1450LE and 1790LE, depending on the
material and colours include white, beige, shades of blue and grey. Unlike
their formal suits, the summer wear is sold by piece, with casual trousers and jackets
sold separately. Summer jackets cost 1370 LE and trousers cost 390LE.
For the more traditional attire, a pair of formal trousers will cost you
somewhere between 550LE and 600LE and come in black, grey, blue, and
pinstripes, while a full suit will cost you somewhere between 1200LE to 7000LE+,
depending on the fabric.
Their selection of ties is all locally made, and range between 280LE to
450LE, with a funky collection of hand-woven ties for the more adventurous. Although
they sport a large collection of cuff links, they are not as diverse and they
range between 250LE and 390LE. Formal belts are between 250LE and 390LE and
come in black and brown. All accessories are imported from Italy and brand
names are nowhere to be seen here, so if you're looking for something flashy,
you'll have to shop elsewhere.
For those who have to come under the spotlight, Orange Square sports a large
collection of tuxedos. Tuxedos start at 3850LE and go all the way up to 6000LE.
Bow ties cost 450LE while suspenders come at 550LE. Other accessories include
satin tuxedo belts (450LE), brooches (550LE) and artificial flowers brooches
(175LE).
Orange Square also tailor-makes everything from suits, tuxedos, shirts
and trousers. Fabrics are a combination of wool and cotton, while many have polyester
and Lycra for comfort; they are all imported and are either Pakistani, Italian or
Indian. We were happy to hear that all their shirts are made using Egyptian
cotton.
Tailoring doesn't end at suits, though; the selection of fabrics
includes customizing suit linings in a variety of colours, from the
conservative greys and blues to louder fuchsias and bright greens for the more
flamboyant.
A spacious and well-lit dressing area also serves as a fitting room for
those tailor-making items.
Ahmed EL Hawary
Worst suit i ever had, though i paid 15000 EGP the fit is horrible, they used very cheap materials for internal lining like glue. Never try them. Actually they should be rated as zero
Write your review