Pink Cats: Basic, Moderately Priced Women's Wear in Nasr City
15 Saudi Company Buildings, El-Nozha St.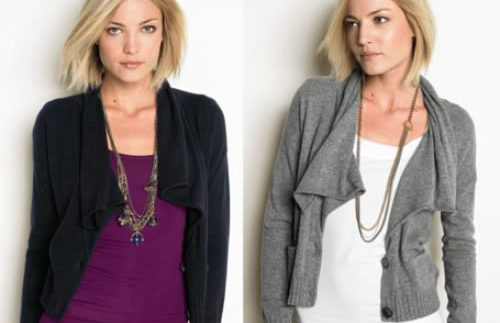 When it
comes to moderately priced clothing, there are a few shops that this reviewer
likes to drop by every now and then. Pink Cats is one such shop. Located within
walking distance from Cairo's mammoth Citystars mall, Pink Cats offers a cool
variety of winter wardrobe staples at reasonable prices.
This
reviewer was smitten with Pink Cats' eclectic collection of cardigans.
Available in a variety of fabrics, lengths and styles with prices starting at
120LE, Pink Cats is the first shop we go to for cardigans. Colours vary between fuchsia, royal purple, grey as well as beige,
pastel pink and magenta.
Highlight items included an olive green cardigan with lace detailing (170LE). What we
liked even better was the peach-orange cardigan of the same design. Knee-length
knit cardigans are also available, starting at 295LE.
Pink Cats is
a tiny shop, but the racks are spaciously spread out for comfortable shopping. We
have never found the shop crammed, giving this reviewer one more reason to love
shopping there. To your left, you can find the cashier counter and a stand for
belts, accessories, leggings, legwarmers and scarves. We didn't catch sight of
any footwear, but a single pair of worn satin open-toed pumps stood alone on
one of the shelves without a price tag.
The sales
assistants are attentive enough when you approach them. They rarely, if ever, interrupt
your shopping with any questions, offering you the peace of mind you might
desire.
At the time
of this reviewer's visit, many items were on sale. Boleros and little jackets sold
for 50LE apiece. Low-quality basic pullovers were also available for 50LE.
The shop
also stocks a limited selection of denim maxi skirts, starting at 265LE. This
reviewer also found golden and silver body-tight pullovers starting at 150LE. Other
patterns and designs are also available like the leopard print. A brown and
beige striped pullover also caught this reviewer's attention.
Pink Cats
has a small collection of leather jackets stacked at the back of the shop. Starting
at 245LE, this reviewer thought the leather jackets were overpriced for their
sub-par quality. Other jackets with faux-fur hoods were also available starting
at 475LE.
Quality-wise,
we don't think that Pink Cats offers the best, but for its moderate prices and
simple styles, this reviewer has made it a habit to visit the shop every once
in a while. You never know what you can find.