Samir & Ali: All Your Stationary Needs at Citystars
CityStars, Omar Ibn El Khattab St.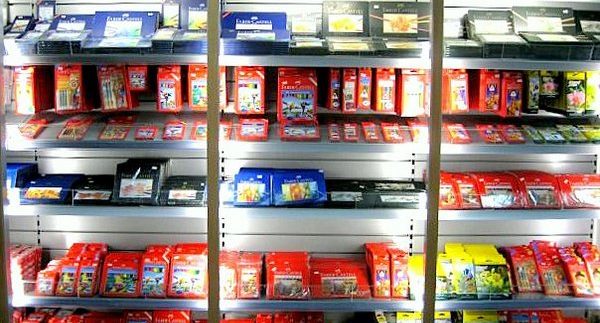 There is no shortage of
stationery shops in Cairo, but finding one that stocks all your needs can be
quite a difficult task. Located across from Spinney's in Citystars, Samir
& Ali is a one-stop shop for all your stationery requirements.
Upon entering, you might feel
a little overwhelmed at the sheer number of items Samir & Ali offers. However,
the shop feels neither cluttered nor cramped. The staff has done a good job of
grouping items of similar use together, making it easier for customers to find
what they are looking for. And if you are having any trouble finding something,
the sales attendants will gladly point out its location.
To the right of the entrance
there are a few cabinets that have Faber Castle and Parker pens. Faber castle
ink pens are priced at 50LE. You can also find a separate stand for Al-Ahly's
official merchandise, including key chains and bumper stickers.
Samir & Ali is abounding
with art supplies. Drawing boards and canvasses are available in a variety of
sizes. You can also find water colours, sets of oil colours and colouring
brushes in a wide range of sizes.
The shop also has a selection
of fun and educative items for children. You can find coloured clay, colouring
books, xylophones, drums and bead abacuses (80LE). There are also books that
help children learn the numbering systems and the principles of writing. Several
posters were available with photos of different species of animals for
educational purposes.
Other less serious items
include a basic wooden dollhouse that is a bit overpriced at 400LE. Playstation
games are also available, as well as plain and Disney-themed gift bags.
Basic school supplies like
pens, pencils, erasers, sharpeners, glues as well as highlighting markers,
notebooks, pencil cases, Disney-themed water bottles and school bags are
available in abundance. Samir & Ali also has drawing boards for kids, board
markers for teachers and Disney princesses and Mickey Mouse stickers. A Buzz
Lightyear pencil is priced at 10LE.
Office supplies are also on
offer, including plastic document holders, photo frames, photo albums and
hard-cover agendas. A wooden photo frame sells for 41LE. We also found a huge collection of desk lamps
and desk clocks, binder clips, post-its, staplers, coasters and memo holders.
Samir & Ali also carries electronic dictionaries.
Although Samir & Ali
provides expensive items, we have no qualms about the quality of their goods.