Sirocco: Eclectic Lighting Shop in Zamalek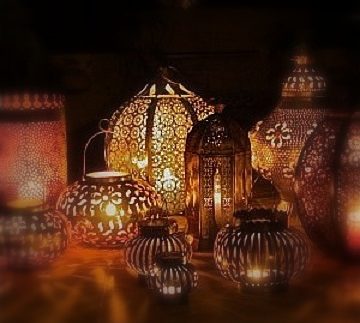 Sirocco is the name given to the Mediterranean wind which can hit Northern Africa with hurricane speeds, leaving a dry trail of dust behind it. It is also the name of a lighting and furniture shop on Shagaret El Dor street in Zamalek. Looking up from the road, Sirocco appears to be on the first floor of an apartment block and caught our attention with its large windows showing off some of their intricate drop-down lighting.
The entrance to the shop is in fact on the ground floor but, immediately, you are greeted by a staircase to the showroom above. Hanging down from the ceiling above it were an assortment of different sized Moroccan style light shades, hung at different heights from a mirrored centre point. These were a particularly detailed set which were circular and made from a silver metal. The cutout shapes and holes created an interesting shadow on the wall and oozed of good workmanship. Despite this being an excellent ensemble, each shade is sold individually and they range from 1000LE to 1750LE, depending on its size. However, this style of light shade is not uncommon in Cairo and were very similar to beautiful ones we've seen elsewhere – for a fraction of the price.
There was another similar collection, but in a boudoir style; square, rouched material shades with gems dangling from the underside. These were available in both a classic dusty pink or a more sultry black. Although these could be purchased individually, the selection of six hanging together would cost a total of 7400LE. The same style of shades had also been used as wall lamps, hung against a dark wood framed mirror to reflect the maximum amount of light and are sold at 1350LE each, including the mirror.
We also spotted some designer-esque coffee tables, including a dark wood one with a cleverly built in magazine rack for 2400LE.
An impressive marble sink was priced at 9600LE, whilst a gold, velvet, sleigh shaped chaise longue cost 6500LE. A large, round mirror with mosaic tiles around the edge was priced at 1800LE and a large painting by Karim Abdel Malik would set you back a whopping 10,000LE. Brightly coloured cushions range from 90LE to 190LE, but unfortunately, the other fashionable accessories on show were not for sale.
Sirocco has hit Cairo at high-speed with their pretty light fittings and couture furniture, and may well leave other competitors biting the dust. Although some pieces can be found cheaper elsewhere, we'd recommend taking a look at the quality items on offer.