Sugar Spell: Fun House of Sweets & Activities for Kids in Maadi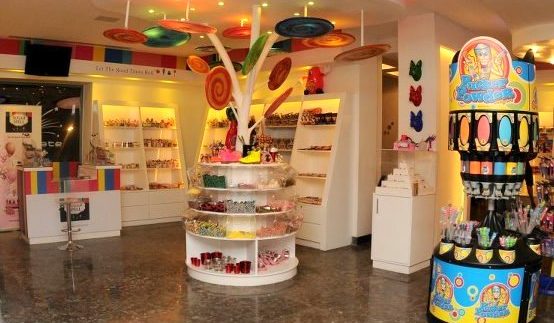 Being a kid in
Egypt can really suck at times. You can't exactly play outside on the streets
since there is a 99% chance you'll get run over by a car and when it comes to
Egyptian candy and sweets, well, it just isn't that good.
Luckily, Sugar Spell has recently opened up on Road 6 in Maadi and
it's a haven for children. It's pretty much Tamarai for toddlers.
Located in a villa,
Sugar Spell is made up of two floors and is surrounded by a big garden. In the garden
there are swings and trampolines; there is also a big terrace where parents can
chill while their little darlings get high on sugar. On the first floor of Sugar
Spell there is a candy shop that would impress 50 Cent himself. There are M&M
dispensers with all the colours you can think of – including pink, grey and all the other ones you
wouldn't find in your average pack. A small bag sets you back 35LE. The same
goes for the jellybeans; all strawberry cheesecake-flavoured jellybean lovers can
finally give in to their addiction. Apart from the candy shop, children (and adults)
can also participate in activities such as colour a cookie (55LE), lollipop
making (30LE) and painting on either wood or paper. For 40LE you can also play
on a Playstation, Wii or Xbox.
The upper floor can be rented out for private parties. There is a room filled with clothing
where the kids can dress up and have their face painted. There is also a big
balcony which is secured for children's safety.
A restaurant
located in the garden has a menu with child-friendly dishes such as burgers,
pizza and pasta. Personally, we indulged in an bubblegum ice cream cone (16LE). The bubblegum flavour was a mixture of strawberry and vanilla
and tasted as perfectly sweet as it should be. There was quite limited choice of ice cream available though, which is disappointing. The waffles (18LE) come with a big scoop of
vanilla ice cream so drench the waffle in chocolate et voila, the perfect
dessert; considering of course that you
can handle all the sweetness.
The staff are very
friendly and for your first visit it is advised to take a tour of the premises.
Do note that the staff doesn't necessarily look after the children; they are
still your own responsibility.
Sugar Spell is a
brand new concept in Cairo and because of their candy shop they
immediately cater to two different groups. Though intended for children, adults
won't be bored here either.