Talon: New Shoe Shop in Dokki with a Little Sophistication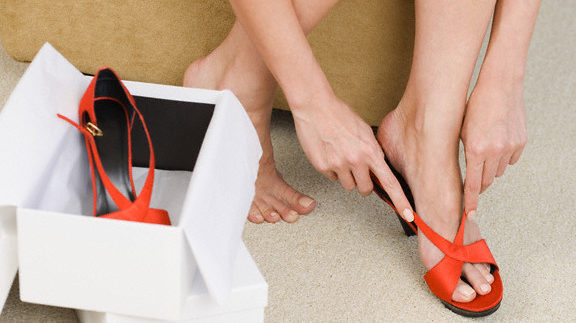 Commence eye-rolling. Yet another
shoe shop has opened on Mosaddak Street. Nevertheless, despite the large number of such shops, this one
seemed particularly worthy of further inspection.
Just across the street from Pizza Hut, the shop
is definitely hard to miss with a large and bright window that's inviting with
a display of their newest collection. Consisting mainly of patent leather middle-sized
bags in different summer colours such as orange, red, yellow and white, they
come with a price tag of 235LE; they also come with matching peep-toe pumps that
cost 150LE.
Inside, there's an extended collection of bags
in varying styles and colours. Though some of the bags come in bright colours,
the most stylish are the brown leather ones. Whether the bag is average sized
or a pouch, the prices range around 200LE.
Talon also offers some colourful Burberry which are highly unappealing. Besides them obviously being knock offs,
with tawdry colours, they are also slightly more expensive than the other, much
more stylish alternatives.
When it comes to the shoes, we easily spotted a
good number of enticing pairs. Given its name, the shop really does stand out with
its heels collection. Colourful leather sandals with medium to high wedged
heels come at a price of 115LE, while high-heeled canvas sandals cost 125LE.
There's also a remarkable patent leather pump collection, available in
different colours and costing around 150LE.
On the other hand, the shop's flat shoes collection
wasn't nearly as impressive. Canvas shoes
were in limited colours and bear a price tag of 95LE. Silver-studded leather
ballerinas come in the basic colours of black, brown and camel and cost 75LE.
There is also a choice peep-toe flats designed with two intertwining colours at
a price of 90LE. A small collection of gladiator sandals range from 95LE to 115LE,
but their excessive ornaments take a lot out of their style.
One thing which distinguishes Talon from most
other shoe-shops is its kids' collection, although the collection itself is not
the least bit impressive. Ranging from colourful beach sandals to leather
ballerinas, the entire collection is highly tacky to say the least.
Overall, we must give a thumbs up to the
quality of Talon's products. The finishing is meticulous and quite
sophisticated, especially considering the relatively fair prices.