The BookSpot: Quiet Maadi Treasure, Great Deals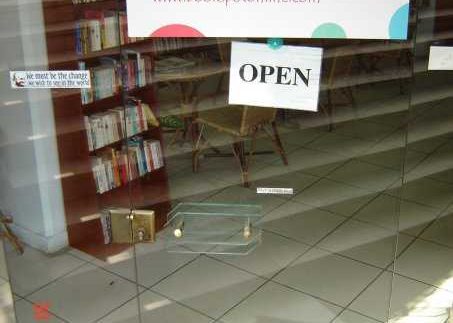 If you're
anything like us, you love sales: discounts, bargains; whatever word happens to
float your boat. There's nothing like beating the streets of Cairo in search of
something and then stumbling upon it unintentionally; and for a good deal!
Located on
Road Nine in Maadi next to Costa Coffee is Maadi's little
home-grown bookshop, the BookSpot. Opened since 2004, this shop is unique in
the fact that not only does it carry over 5000 used books; but it also has a
buyback program for all of those old books that you're never going to read
again.
Near the
shop's front are the children's books and a small play area so that parents can
spend time perusing for themselves. You'll find the used book section along the
left wall while the new ones fill up the right. Used and new alike, the shop
carries a wide selection for such a small place and although it's a little
crowded, the simple layout makes it easy for some book browsing.
The used books section includes everything from cookbooks to fiction of all genres–Michael
Crichton readers will find a slew of his latest for 25LE and above. We also
found Alaa Aswany's Chicago for 41LE
as well as used magazines from 2009 (averaging around 20LE). While we aren't
quite sure why you'd want a 2009 issue of Esquire, there are some pretty faces
gracing the covers. Students will appreciate the shelf of used textbooks, which
are much cheaper than your average campus prices. All books are in almost-perfect condition;
with the fixed price clearly marked on the inside cover.
From Oscar
Wilde to Jane Austen, if you're looking for some classical reads; their new
books section is surprisingly well-stocked and pleasant. The selection included
two books that were on our list: Out of
Place by Edward Said (90LE) and an unabridged copy of Tolstoy's Anna Karenina for a mere 25LE. Catcher in the Rye was also there for
55LE. Other sections include religious studies, biographies and self-help books.
Two tables
are centrally located for a quick read up and the staff are great at simply letting
you browse so take your time and get yourself a new read or two. A small table
carries a selection of teas, coffees and an electric kettle if you'd like
to relax with a hot drink. The shop also sells an interesting collection of
photographs of rural Egyptian countryside, as well as some pleasant greeting
cards and postcards.