The LOFT Gallery: Orientalist's Dream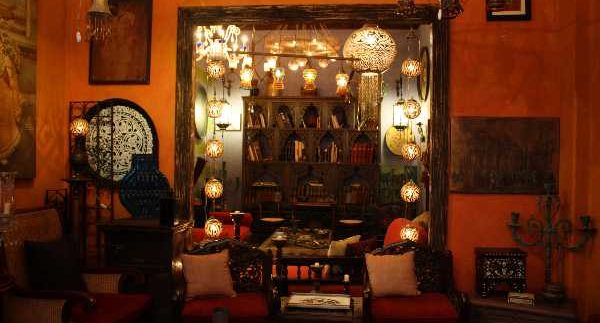 Shops like the
LOFT Gallery are the reason why we love Cairo. Where else can you walk off the street and
enter a world frozen in time, both elegant in its age and striking in its
presentation? As soon as you're inside,
you're hit by how special the place is, where beautifully detailed antiques and
curiosities hang from every corner and substantial pieces of furniture look as
if they've been standing for centuries.
The brainchild of
Hani Gamil, an Upper Egyptian interior decorator, and Pierre, a French-Canadian
romantic, the shop was opened in November 2002 to fulfil Gamil's dream of starting
his own business. Gamil used to manage a similar shop and worked for many years
as a decorator on some well-known avant-garde designs. When the shop closed, he saw the opportunity
to branch out on his own.
The pair first
began collecting interesting old items, and used to rent workshops. They
purposely sought an apartment, not a store, and they found the perfect home in a
large charming flat inside a 1930s mansion in Zamalek. The high ceilings and spacious rooms were the
perfect venue to display their beautiful light fixtures, including some
amazingly grandiose chandeliers– one of their specialties– along with
curiosities and some rare antique pieces.

Now people come
to them, attempting to sell anything and everything. They have made a few
finds, and they recycle a lot. Old ironwork, once part of a staircase and
window frames are now incorporated into coffee tables. Chandeliers have elements of old and new, such
as an old ornamented ring placed around a newer light fixture. And they're not
against experimentation– pieces should be creative and functional.
Their team now consists
of about twelve to fifteen people, including painters, artists, craftsmen,
electricians, and of course, salespeople spread out over three workshops in Cairo where items are
painted and refurbished. Expats thirsting for oriental charm represent about
65% of their clientele, while Egyptians seeking something different from the Louis
Farouk style and the odd tourist round out the mix.
Considering this
place exists for a niche market, one would expect their prices to reflect this,
and they do. Turkish style trays go for about 950LE, tables can cost1700LE, one
bookshelf was listed at 10,000LE, and a very stylish art deco bedroom set was around
50,000LE. They do have some cheaper consignment items as well, and those looking
for some a keepsake will find something for 20LE.
Not everything is
for sale, however; one of their most prized discoveries is a 110-year-old
European baby bassinet that has now become a conversation piece. Many have tried to purchase it, and at a
pretty penny too; but considering there's a similar one currently housed at the
Metropolitan Museum of Art, it's highly doubtful they'll be parting
with it anytime soon.