Astrotrips: Egypt's First Astronomy Trip Initiative
written by
Nadine El Shiaty
Imagine what thousands of millions of stars within our Milky Way would look like under the telescope. Now imagine that your gateway to get in touch with the universe, the space, the stars, is only as close as a hiking trip or a camping trip to the dessert.
Egypt's first self-funded astronomy initiative, Astrotrips, provides exactly that, planning astronomy trips in Egypt and beyond, for all those who want to escape the city and explore the wonders of the universe.
We sat down with Astrotrips founder, Amr Abdel Wahab and his passionate team, who shared the Astrotrips story as well as unforgettable anecdotes from their trips all over Egypt.
Born and raised in Upper Egypt, in a town with limited access to light, stargazing has always been a passion of Abdel Wahab; a passion that grew from looking up the sky during the night.
"The roof has always been the 'café' of women in Upper Egypt. Perhaps people don't know that stargazing is among Upper Egyptian women's favourite activities too," Abdel Wahab told us.
Around the same time, when Abdel El Wahab would sit on the roof of his house along with his mother and sisters, he grew a major interest in the science of astronomy and had countless questions on how the universe operates.
Keen to fulfill his eagerness to learn about astronomy, Abdel Wahab's father, who was a Director of the Department of Libraries in the Educational Directorate, would bring home lots of astronomy books.
Moving to Cairo at the age of 25, Abdel Wahab, who later became the head of the Astronomical Society in Cairo—an association that holds lectures and forums on astronomy— felt that raising people's awareness on what astronomy is was just not enough.
"I realised that there is so much more to astronomy than generic lectures. I wanted to take my passion for astronomy beyond the theoretical science which leaves people with untapped information, rather than observational evidence," he said.
Elba: Astrotrips Journey Begins
Astrotrips grew out of Abdel Wahab's dream to establish an initiative combining both astronomical knowledge alongside stargazing and discovery trips. The initiative was officially founded in 2014; but the Astrotrips journey began in 2012, when a team of adventurous friends—including Abdel Wahab—went on a trip to Elba, a natural reserve on the Egyptian Sudanese borders thousands of kilometres away from Cairo.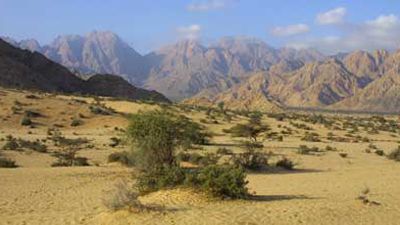 After waiting for endless travel permits approved by Egypt's Frontier Guards, after travelling over 11 hours and over 1,600 km from Cairo, Abdel Wahab and his eager travelling buddies arrived to what is Egypt's biggest natural reserve.
Located in the southeast corner of the Eastern desert of Egypt, Elba has a rich, unique and unparalleled biodiversity comprising of natural islands, mangroves, coral reefs and sand dunes as well as a group of coastal mountains, including Jabal Elba and Jabal Ebruq.
The team was fascinated to discover a new natural and primitive side to Egypt that very few people knew about. Elba is enriched with a rare wildlife with dozens of animal species that can only be found there; wild birds, eagles, desert deer and sub-saharan species including Zoril, Aardwold and Barbary sheep.
"The untouched beauty, the untapped nature, the plants, the mountains, the wildlife; everything was just incredible. I wanted the whole world to see that Egypt has such unbelievable resources and a beautiful picturesque nature that is yet to be known," commented Abdel Wahab.
From then on, encouraging locals to rediscover and explore Egypt's newfound sights became Astrotrips' main mission. So far, the team have organised trips to different areas across Egypt, including Nuweiba's Coloured Canyon, the White Desert, Bahariya and Siwa Oases.
Astrotrips Programs
Astrotrips plan their astronomical getaways around three main pillars; the first one is picking the right timing for stargazing , which, according to Abdel Wahab is best done during the beginning or the end of the Islamic lunar calendar—when the sky is moonless— away from any light pollution.
Yarab Eg3alha Leila Soda (May it be a dark night) is Astrotrips' official motto before grabbing their telescopes and hitting the road.
"We hope for a dark night or Leila Soda, because that's when the sky is most perfect for crystal clear vision of the universe," Abdel Wahab laughed.
The second pillar is about exploring Egypt's natural reserves because natural reserves, as pointed out by Abdel Wahab, combine both the astronomy and the natural angle.
"Egypt has 28 different natural reserves. Natural reserves including Jabal Kamel on the Egyptian-Libyan borders are formed from meteors hitting the earth's surface forming impact craters," explained Abdel Wahab.
Meteor Shower Phenomenon: Astrotrips Groundbreaking Trip
Observing astronomical phenomena in the universe is Astrotrips' third pillar; something that the team takes huge pride in—being the very first Egyptian initiative to track astronomical happenings under the telescope— including the Meteor Shower Phenomenon.
"The earth revolves around the sun in an orbit; whereas other meteorites and masses in the space orbit around the sun too. Once the remnants of those meteorites interrupt with the earth's spin around the sun, they penetrate our atmosphere and burn. Meteorite burning objects appear under the telescope as small objects that light and disappear," Abdel Wahab explained, adding that the energy, mass and chemical composition of those meteors determine the intensity of lighting and colour seen through the telescope.
"Sometimes you'll see white meteors, blue meteors, green ones; it's a fascinating phenomenon," he added.
During their trips, the team of Astrotrips provides a navigation session to their travellers on how to read the sky, in which they learn to identify and locate their directions within the desert using a constellation of stars in the sky.
"The sky has an average of 2,000 stars under the telescope. In every season we see a different constellation of stars, and that's what defines what we'll be able to observe," Abdel Wahab said.
The second activity involves participants learning how to put together and get the most out of a telescope, immersing their travellers in the process from start to finish.
Bedouin Gardens, the White Desert and Kattameya Observatory: Astrotrips Best and Worst Trips
The White Desert excursion is Astrotrips most popular trip; you get to enjoy stargazing as well as fascinated and drawn to the naturally shaped limestone formations in the desert.
Perhaps Astrotrips most memorable excursion was visiting the Bedouin gardens in Sinai during Ramadan. Located 1,500 meters above sea level in Sinai, Astrotrips and a team of ardent travellers stayed with Siwan Bedouins under the stars.
"The air was fresh and clean, the food was organic and so delicious. We're talking about sipping an exquisite Qamar El Din juice picked freshly from the Bedouin apricot trees and praying under Sinai's starry sky. It's by far one of the most spiritual moments we've ever experienced," Abdel Wahab told us.
When asked about their worst experience on one of their trips, Astrotrips Chief Coordinator, Mahmoud Khattab, said it happened during a stargazing trip to Kattameya Observatory last winter, when the weather suddenly dropped to -5 degrees and nobody was prepared for the cold to the point that the observatory guards at the sight provided woollen blankets to the entire team.
"The sudden turn in weather was completely unexpected, but our travellers handled it very well and kept up a great spirit," Khattab said.
On-Road Checklist
Before hitting the road to one of Astrotrips' astronomy observatories, make sure you check their 'travellers checklist' which highlights the equipment you'll need for the day; think comfortable shoes and clothes, caps equipped with red headlights— caps designed for better observatory at night which can be found in Radio Shack— and a green laser for pointing at the stars and for navigation purposes. If the trip involves camping in the desert, Astrotrips provides tents and sleeping bags.
Prices of the trips vary between50LE to 500LE, depending on nature of the trip and itinerary, which cover night-stays, camping, providing food and transportation.
"Our travellers are the ones longing to step away from the noise of the city, the ones who want to participate in new unconventional and exploratory trips. The spectrum is huge; we always have artists, engineers, doctors, students and children who want to learn more about astronomy. We were honoured to have had Omar Samra attending one of our trips," Abdel Wahab told Cairo 360, adding that some of their travellers come all the way from Sohag and Qena to attend their trips.
What's Next for Astrotrips
Astrotrips aspires to create a "Portable Astronomical Observatory"; a car equipped with telescopes touring all over Egypt to spread people's awareness on astronomy while showing them the stars and the universe.
"Some people can't afford to pay an average of 100LE for an astronomy observance trip; this is why I would like more and more people know how great the universe is," Abdel Wahab said.
Astrotrips answers to the wish of many travellers out there craving adventurous out-of-the-box trips, allowing them to experience Egypt in a different light.
"Our love for astronomy and the universe is our engine at Astrotrips. Because if it wasn't for our passion, if it wasn't for seeing people's happiness during our trips, we wouldn't have started this initiative and we wouldn't have continued doing what we're doing."
Stay posted with Astrotrips upcoming trips right here.