Cairo to Beirut: Everything You Need to Know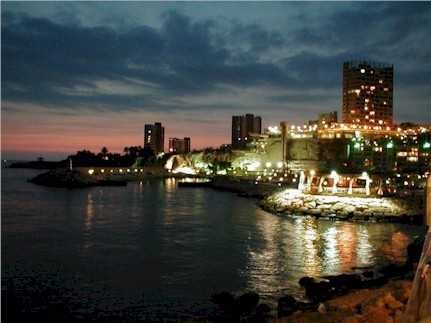 As much as we love Cairo, a visit to Beirut will have you
asking why you weren't in on the secret earlier. The truth is, Beirut is the
closest place to heaven available in the Middle East; not only is it much more
manageable in terms of size, traffic and population; but its charming streets
are also packed with more shopping outlets, amazing restaurants, cultural
venues and nightlife options than anyone could need in a lifetime. Just an hour
and a half's flight from Cairo, Beirut
is the perfect city to get away from it all and enjoy the best that the Middle East has to offer.
Getting There
Middle East Airlines flies to Beirut from
Cairo International
Airport twice a day every day and
Egypt Air flies to Beirut from Cairo two to three times per day. Prices for
flights average at 2000LE round trip, depending on the day and season. Air
Arabia offers discounted flights priced at about 1300LE from Alexandria's Borg El Arab International Airport
several times a week. Once you're there, your sole mode of transportation is
via taxis. Ordering a taxi through your hotel's reception may be ten times
more expensive than it should- and you will have to haggle a lot. To avoid this,
ask a local for a cheaper taxi service: we recommend Queen Taxi.
Where to Stay
Although it's much smaller than Cairo, Beirut has a wealth of distinct neighbourhoods
offering diverse experiences for visitors. If you are a die-hard party-goer,
consider staying in Gemayze, a hip Beirut
quarter swarming with amazing nightlife, stylish cafés and beautiful people.
For proximity to Beirut's
huge shopping mall, ABC, get an address in the Achrifiyeh neighbourhood: we recommend the very reasonably priced Golden Tulip Hotel De Ville. Or choose one of the fabulous luxury hotels in Beirut's recently revived
Solidere area. For a more relaxed atmosphere, choose a hotel in Hamra, which is
home to the American University in Beirut
as well as some of the city's best restaurants. If you are a group of girls on
a budget, try booking a room at the local YWCA in Ain Mreisse near Hamra, where
clean and secure rooms come cheap.
Dining Out
It is nearly impossible to spend time in Beirut without gaining multiple kilograms, as
the food is far too delicious to resist. Must-try items include mana'eesh,
local ice cream and salads and grilled meats of all varieties. Mana'eesh should
be eaten fresh from the oven at street stands: try the zaatar with labnah or
halloumi cheese; you won't regret it.
For a cheap meal, try Kebabji, a local chain with branches around the
city serving up succulent shish tawouk, kofta and kabab. Be careful when
ordering, though: in Lebanese, Arabic kofta means kabab, and kabab means kofta!
If you're in Solidere, definitely eat at Al Balad and try their lahmah bi ajinah. For a modern twist on Middle Eastern classics visit Café Blanc, a funky café in ABC Mall and Hamra. If you enjoy brunch, try
Hamra's City Café, a cute local hangout that serves a delicious Sunday brunch
in a relaxed setting.
Things to Do
If you visit Beirut during the summer,
plan for poolside lounging at one of Beirut's
glamorous beach resorts (such as Edde Sands), or head to the mountains to escape the summer heat as
well. Also check out the Palace
of Beit El Din, where an
annual summer concert series features some of the best-known Arab musicians from
Marcel Khalife to Fairouz. Other attractions include the Jeita Grotto, an
amazing area of caves, and the Church of Our Lady of Harissa at Jounieh, which can
be reached by cable car and features sweeping views of the city. If you have
time, consider taking a day trip to the breathtaking ruins of Baalbeck, a three-hour
drive from Beirut.
Head down to the Corniche for a long and leisurely stroll by the sea or to
Downtown, where old buildings that survived the recent civil war mingle with
the newly built area and Solidere. A spin around Hamra will reveal adorable
shops and cafés. Check out Artisanal, a shop carrying locally made handicrafts,
and Al Inaash, a collective that sells gorgeous Palestinian embroidery produced
by women from Beirut's
refugee camps.
Culture aside, shopping at ABC mall and the shops in Downtown's Solidere
area is not to be missed, where everything from Armani to Marc Jacobs is on
offer. Aishti in Solidere houses the best of designer clothing all under one
fabulous roof. If you are looking for gold jewellery; consider stopping in at
one of the shops in Hamra; Beirut's
jewellers offer delicate pieces crafted with a chic subtlety.
Nightlife options in Beirut
are extensive. Famous hot spots include the original Skybar, an open-air
rooftop overlooking the sea that seems to have been replicated almost exactly
in its Egyptian North Coast
branch. There's also White, a local classic frequented by the city's hottest
people, and B0-18, a dark yet trendy underground club. Head down to Monot Street in
Gemayze, where a plethora of bars and clubs beckons, including Alkazar, Gem and
Mui.
However you choose to spend your time in Beirut,
you will be begging to come back for more: this city is beyond amazing and so
close to Cairo;
that a long weekend in Levantine heaven is never out of reach.