Bad Lieutenant:Port of Call New Orleans: Enigmatic, Corrupted Hero
Eva Mendes

Fairuza Balk

...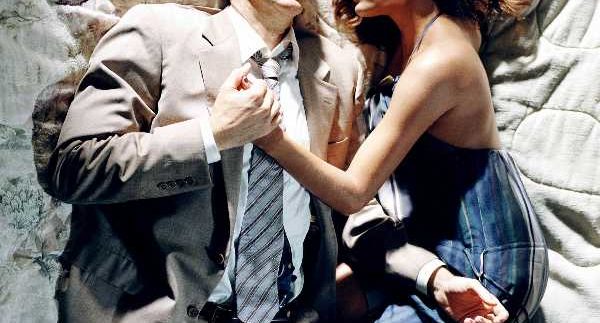 German director Werner Herzog is one of the most
passionate filmmakers working today. He famously ate his own shoe when he lost
a bet, and most of his films and documentaries are cinematic meditations on
mankind's relationship with nature. So it was surprising, albeit interesting news
to hear that he was helming Bad
Lieutenant.
Bad
Lieutenant offers a character study about feverish paranoia.
Terence McDonagh (Cage) is a living paradox encompassing all virtue and vice.
Most films offer characters with a dark side, but when push comes to shove,
they make the right choice. That's not McDonagh, though: he doesn't exist in
the grey area between black and white; he dances between them. Enigmatic yet
conceivably justifiable, he implements the law with fury but understands the
inherent flaw of justice and is unfazed by the chaos of the jungle.
Set in post-Katrina New Orleans, McDonagh is the best detective
in the police department with one inignorable flaw: he's a cokehead. After an
earlier incident left him with a permanent back injury, the detective got himself
hooked on painkillers which eventually led to heavier drugs. Now, he's in charge of investigating the
coldblooded execution of five Senegalese immigrants who sold drugs in Big
Fate's (Xzibit) territory.
His girlfriend, Frankie Donnenfeld (Mendes) is a
hooker with a heart of gold who shares his coke habit. McDonagh's life is
falling apart due to his drug addiction, and so is the investigation. After a string of bad choices, he ends up
stripped from his rank and has no more access to free coke from the evidence
room. To top it off, he's now being chased by bookies that he owes money to. His
whole world is falling apart, captured by Herzog with erratic intensity.
Cage is at his best when he's given enough room to
revel, and in Bad Lieutenant, he's
given the one-man show that he deserves. No one is better at chewing scenes
like him; he carries the film almost single-handedly; and it's so much fun to
watch.
Bad
Lieutenant might mislead your expectations: from the outside it
looks like a corrupt cop saga, but director Herzog is not interested in making
that kind of a film. Take it on its own terms and you'll have a great and
engaging view; but don't worry: the film has enough action and suspense to keep
you on edge until the end.