Invictus: The Unconquerable Soul of Mandela
Matt Damon, Morgan Freeman, Scott Eastwood, Robert Hobbs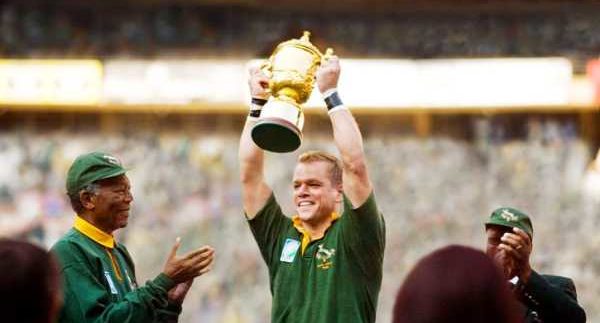 Part historical epic, part sports drama, Invictus sheds light on a key chapter in
former South African President Nelson Mandela's life, and his efforts to
reunite his nation under one flag after years of racial injustice. Director Eastwood
reunites with Freeman, who was personally chosen by Mandela to portray him,
after having starred together in Million
Dollar Baby and Unforgivable.

Watching
Freeman embody the African leader on screen is not only mesmerising; it's also humbling
and dignifying. Freeman's performance perfectly illustrates the difference
between impersonation and capturing the essence of a character.
After a quick rehash of the social and historical
context of early 1990s South Africa, things slow down. Mandela is now the
president of a country boiling from ethnic tension. And after fighting the
tyranny of the Apartheid, Mandela– or Madiba as his people like to call him– has
to stop his people from inflicting revenge on whites. He sees the locally
hosted Rugby World Cup championship as the perfect opportunity to gain the
trust of the white nationals and unite both races under one national team.
The national rugby team is led by Captain François
Pienaar (Damon). His leadership skills are under great strain after his team suffers
the worst string of defeats in their history. With Mandela taking a personal
interest in the team, the two meet and Pienaar is inspired by the president's leadership
and humility. With a noble sense of purpose, Pienaar now has to lead his team through
the championship and thus try to bring the country together.
Eastwood's attention to detail comes in full play in Invictus, and in that sense, the film is a meticulous piece of cinema and
history. However, as a drama, Invictus
is overly didactic and straightforward. Mandela inspires everyone around him,
but his long speeches and moralising reason cannot substitute for great
narrative. There is a disheartening lack of conflict on display here, and it
seems that the film's biggest antagonist is the viewer's prejudice. By continually
reminding us of the dangers of bigotry, Invictus
comes dangerously close to overkill.
With its heart in the right place, Invictus is an inspiring film, but it
lacks the charisma of the leader that it celebrates. While knowledge of rugby
or South African history is not a prerequisite to enjoying this film, patience
and tolerance for preachy speeches is– but Freeman's earnestness will win you over.