My Week with Marilyn: Weak, Lop-Sided Look at Fame
Dominic Cooper

Dougray Scott

...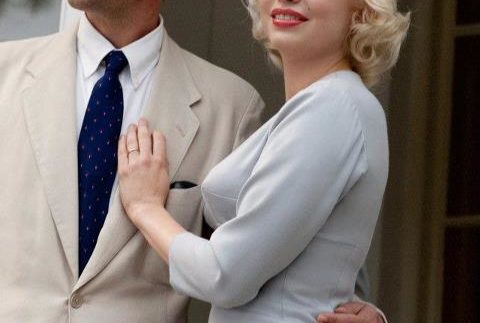 This film was doomed to fail from the start. It takes an icon, known for
both her sex appeal and her wish to be viewed as something more than that, and
tells her story from the point of view of a man who's in thrall of the screen
siren side of her. When the protagonist sees Marilyn in this light, it becomes
almost impossible for the viewer to perceive her in any other way, no matter
how many Marilyn-the-person as opposed to Marilyn-the-star scenes the film may
have. The film falls into the same trap as the general public, even when it
takes special care to avoid doing so. And while this doesn't make the film a
complete failure, it does severely impact it and give it a sense of futility.
Colin Clark (Redmayne), a lowly assistant director on the set of The Prince & the Showgirl, grows
close to Marilyn Monroe (Williams), the film's female star. He quickly gains
her trust and with it, a front row seat to her handler-approved, pill-popping
loneliness and crippling confidence issues. Despite her status as a married
woman and a myriad of warnings against doing so, he falls in love with
her.
Marilyn occupies a very strange place in the public consciousness;
everybody's heard of her and seen the picture of her standing over an air vent
with her dress billowing about, yet not many people have seen her films, let
alone know anything about her considerable comedic talent. Still, as an icon,
she's ubiquitous and it's mainly because of this that Williams' portrayal of
her hews closer to mimicry.

Williams is a fantastic actress and there are some
scenes in which the resemblance between the two is uncanny, both in looks and
mannerisms, yet Monroe is too big a part of pop culture for such a
straightforward take on her life. An approach such as the one used in the Bob
Dylan biopic, I'm Not There, may have
been more effective. Six different actors, of varying ages, genders and races,
were chosen to portray different aspects of the legend. Such a radical approach
makes it easier to let go of the image ingrained in your mind and leaves you more
open to a different idea of the film's subject.
There's also the fact that Colin is the film's narrator and so, by
default, we're not getting to know the 'real' Marilyn; we're seeing his
perception of the 'real' Marilyn. The film is apparently based on a true story,
which is rather hard to believe when Colin is everything that Marilyn is said
to have hated. In the film, she rails against people who only see her as the
sum total of her sex appeal yet Colin seems star struck, bordering on servile.
He seems completely spineless and Redmayne doesn't do much with him to make him
appealing.

The film doesn't get deep enough into Marilyn's issues to explain
why she would tote him around everywhere when she has a couple of cronies at
her beck and call. The main explanation we get is something along the lines of
a sweet girl caving under the excess of Hollywood and the pressure of fame
which could have been about anyone from Britney Spears to Lindsay Lohan. It's
shallow and doesn't say anything that Monroe's most casual fan didn't already
know.
On the plus side, the film is beautiful, as all period films are. It's
soft, warm, richly coloured and showcases some gorgeous costumes and make up. The
film-inside-a-film structure allows for greater diversity in the costumes and
setting adding to the amount of pretty.
The characters in My Week with
Marilyn frequently marvel over Marilyn's innate talent and natural gift. We
marvel along with them but more in blind agreement than as a result of any real
conviction.