Ramadan TV: Zohra We Azwagha El Khamsa
Ghada Abdel Razek, Hassan Yousef, Bassem Yakhour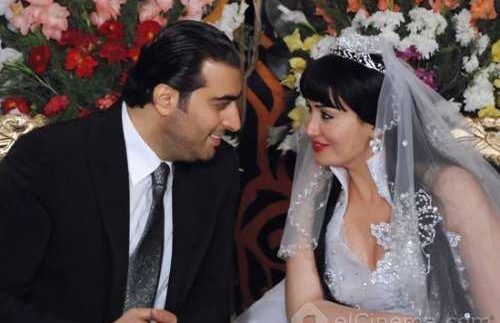 The title
of Zohra We Azwagha El Khamsa (Zohra and
her five husbands) is misleading. The Zohra in question (Abdel Razek) doesn't actually
engage in a promiscuous relationship with five different husbands all at once;
instead, she spreads them out over the course of 30 episodes. However, credit
must be given to the insinuating title that has infuriated many lawyers and
sent them out on a lawsuit spree. The show's creators sure do know how to catch
the public's attention, but do they have what it takes to craft an engaging
drama? Well, as trashy as their show may be; it's hard to resist.
The show is
written by TV veteran Mustafa Moharam, who is no stranger to dramatising polygamy.
Having written Al Hag Metwaly, a show
that stirred up a frenzy back in 2001 with its insatiable treatment of multiple
marriages, the social-trends' dream-catcher flips his old script around to focus
on a passionate woman instead.
Early on, Zohra
is just a poor nurse with irresistible charms; the prototype for the sexy nurse
fantasies if you might. She can't tolerate her older brother's strong grip on
her life; so she marries her way out. After serving a short prison sentence and
ending her first marriage, Zohra finds out that she has lost her old job. She
gets hired as a nurse in another hospital, where she meets Al hagg Farag
(Yousef), an old business man with old-school entrepreneurial spirit and an eye
for tramps.
Hagg Farag falls
under Zohra's spell, and after his constant nagging, Zohra agrees to marry him.
Her natural gift of business management fully blossoms; she also gives the hagg
the male son that he has wistfully dreamed of.
Having
married the hagg out of a sense of responsibility, Zohra falls for a younger
dreamboat with broader shoulders by the name of Maged (Yakhour). Zohra ends up
deserting the old Hag for Maged, and the two spend the most magical
cohabitation period of their lives together in marital bliss. As fate would
have it, this perfect match ends tragically with the death of Maged. Zohra's coping mechanism in dealing with the loss
of Maged is to go on a marriage binge.
As a drama,
Zohra We Azwagha El Khamsa throws
every imaginable crime-page cliché into the sink with bribes, murder, domestic abuse and
backstabbing. The show is very much an homage to 80s and 90s melodramas; even
the shooting style and musical score are very reminiscent of older drams.
Part of the
show's main assets is Zohra's ability to lure men into her web. It's as if Zohra
is the polar opposite of Hend Sabry in Ayza
Atgawez. One can't find a suitor, while the other can't seem to get a
break. For reasons beyond our grasp, men are drawn to Zohra's tok-tok chic like
moths to a flame.
Zohra's biggest strength is also its biggest weakness.
The show rings of familiarity; we've seen these archetypes and plotlines before;
there is nothing newly interesting to hold our attention.
Despite
being contrived, Zohra still has the
elusive allure of an overheard neighbour's fight. It has the added benefit of
being the season's sauciest show; a fact underlined by the numerous scenes (twenty-two
just from the first ten episodes) that had to be cut for having inappropriate
content.