Restless: Gorgeously Shot Quirkfest About Death
Henry Hopper

Mia Wasikowska

...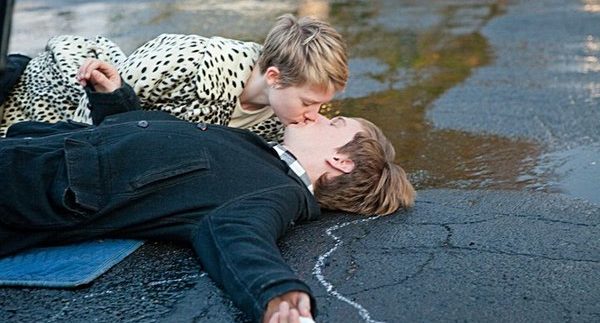 The one thing you have to understand about Restless is that it's massively quirky- hipster even. Anything that
may possibly increase its levels of twee is sure to be included. Knowing that,
the film isn't all that bad. It just requires an affinity for saccharine and a
certain level of suspension of disbelief, and while that suspension comes
naturally to this reviewer while watching musicals for example, it took a lot
more effort while watching this.
After the recent death of his parents and his waking from a three-month
coma, Enoch (Hopper) becomes a funeral crasher. He meets Annabel (Wasikowska)
at a funeral, where she bails him out of a sticky situation. As a result, they
bypass friendship, fall in love and start spending every waking moment
together. The only damper on the horizon isAnnabel's health; she
has a brain tumour and the doctors have given her three months left to live.
Along with Enoch's ghost friend Hiroshi (Kase), a Japanese kamikaze, they
grapple with their own mortality.
Enoch is similar to The Catcher In The Rye's Holden Caulfield. He
has the whole 'hate the world, screw authority' thing down to a tee and
frequently acts like an overdramatic, pretentious brat. Hopper totally has the
angst down but his sudden transformations from mildly obnoxious to outright
mean aren't so fluid and believable. On the other hand, Wasikowska manages to completely
sell Annabel's infatuation with birds, and for that she deserves an award. She
comes across as a lot more human than Enoch and manages to more or less
transcend her character's quirks.
Unfortunately, Enoch and Annabel's romance is not believable in the
slightest. Their chemistry is frigid and their kisses feel vaguely incestuous.
Now, many a mediocre film has been elevated by the all-encompassing romance at
its centre, and this really should have been one of those films.

The film
needed some passion to anchor all the pretentiousness and had it managed that,
it could have been some kind of hipster Nicholas Sparks film. It has the random
obsessions, vintage fashion choices, faded image quality, unlimited angst, a
kamikaze ghost… all sorts of elements that are like twee, hipster catnip; yet we
end up with an unhurried, beautiful film that is emotionally hallow.