Adam: The Smooth Delivery of a Peaceful Message
Following the success of The Magic Thread (2016) and Let's Talk (2017), Syrian-born artist, Souad Mardam Bey, conquers the vast halls of Zamalek Art Gallery, again, with her latest series of artworks, entitled Adam.
With the guidance of her brush, palette and canvas, Bey is able to create a visual reverberation of late Syrian poet, Mohamed El Maghout's, profound words. Specifically, Bey re-creates a visual reverberation of a piece of prose, in which Mahgout carries a vow to bring a child into this world, give him the universal name, Adam, and raise him to become free of prejudice.
Souad Mardem Bey's subtly novel technique, and her exceptional execution of it, says it all; Adam, is a smooth delivery of a concept that was conceived by a fellow artist, who also believed that every man, regardless of his religion, race, or belief, deserves a proper place under the sun.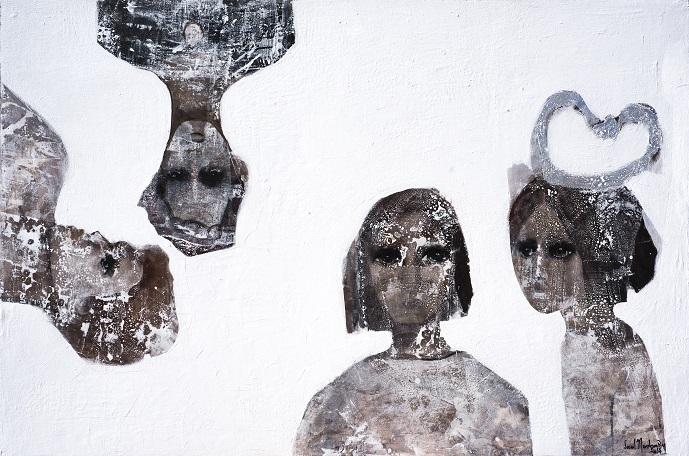 Equally denouncing every man made barrier in her life-size portraits, Bey confidently introduces a prodigious group of misfits to the viewer; from the androgynous who doesn't abide by gender roles, to the woman who has shattered society's steel chains, to those who follow an uncommon religion, Bey is able able to defy societal limits of the acceptable through her artwork.  
While the cynic may describe the artist's depiction of these outcasts simply as a beautifully arranged pile of mixed media on canvas, an optimist may ague that merely shedding a light over the outcasts outlines the importance of  acknowledging the similarity, that all viewers tend to forget: namely, the fact that we are all members of the same human race.