Al Kahila Art Gallery: Bridging the Classic and the Modern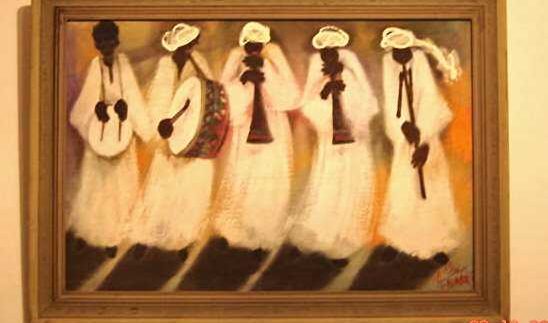 Finding that
perfect painting or sketch to finally complete your home's décor can be a tedious process. Whether your taste takes a classical route or you're going for
a modern, funky edge, purchasing an art piece that perfectly suites your style is
a significant decision that must be handled with care.
Al Kahila Art
Gallery, the latest showroom to open in Mohandiseen, exhibits recent
collections from both local and international artists. The gallery's location on
Batal Ahmed Abdel Aziz Street
is slightly tucked away and easily missed; so make sure to keep your eyes
peeled for their humble garden-lit entrance.
Once inside, you'll
see the gallery is simply laid out, containing a few small rooms alongside the
main showroom with plenty of space for multi-perspective viewing. The lighting
is tastefully positioned, drawing the viewer's eye to the individual pieces that
line the spacious white walls. A thorough walk around is recommended to gain a
feel for each collection.
A few collections
of by well-known Egyptian artists are currently being shown, with mediums
ranging from pen or ink sketches to oil paintings and mixed media compositions. The gallery stocks paintings and caricatures by acclaimed artist George Bahgoury, though not the political cartoons that people have raved about
since Nasser 's era. Pieces start at around 3000LE
(look out for his caricature of the Mona Lisa) and if there is trouble
locating a specific one, ask the assistant to view others, which are presently
being stored in the basement.
While Bahgoury's
pieces are bound to bring up a little nostalgia for anyone involved in the
local art scene, the paintings and mixed media by Ahmed Sakr are fresh,
innovative and inspiring. One piece in particular automatically catches the
eye; it is composed of bright, bold hues and layered with antique train tickets
that date back to the 1970s. With each ticket, a detailed face is painted,
keeping the piece alive and new. The 7000LE-price tag may seem a bit steep;
but this piece is definitely one of a kind and the perfect size to fill a small
area at home.
Other notable pieces
include an oil painting of Nubian musicians in motion by Abdel
Fattah El Badri, and a large oil painting of upward-turned, heart-shaped faces
against a gold-leaf background by George Lotfi. Farouk Wagdi's watercolour
of a peasant woman and her child uses delicate pastel colours to frame the
woman's figure, while Fairouz Samir's silhouettes of a woman's back
are both haunting and sensual.
The gallery also
has jewellery on display by local artisans ranging from 50LE up to 300LE,
including dainty silver-leafed earrings to stone-pendant necklaces; perfect for
a personalised gift or a last minute pick-me-up.
If you want to
take a browse around or interested in adding some value to your art collection; stop by Al Kahila and you won't be
disappointed.