It's known that the streets of Egypt aren't the safest for women. This would explain why many women and girls are discouraged from becoming involved in any work which would require them to spend large amounts of time out in the streets. Ayah Aman is breaking barriers by working as a freelance photographer here in Cairo, mostly focusing on street photography. The content of her work is also significant; putting an emphasis on issues that specifically affect women. We asked her some questions about her work and creative vision:
Q: When did your interest in photography begin?
A: Ever since I was a kid, my mother had a film camera that she always carried around and took pictures of everything so she always inspired me to get into photography. 5 years ago, I started taking random pictures on my phone of my surroundings; the street I live on, the mosque next to my home, etc. Then I worked on myself, developed my skills & now I'm 21 and found my signature style which is night street photography.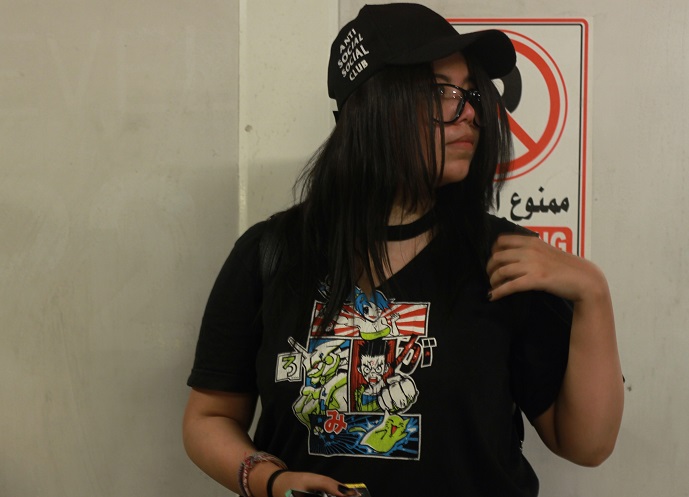 Q: Where do you get most of your inspiration?
A: My inspiration comes from Japan and its neon signs. It's my ultimate dream to go to Tokyo. Low light photography & Street photography interest me the most. There's something so mysterious about the streets at night and that really intrigues me. I'm also influenced greatly by street wear culture and it's a big part of my aesthetic.
 

 

 

View this post on Instagram
Q: Your work deals a lot with the female experience. Why do you feel its important to portray this in your work? Do you feel that this portrayal is missing/lacking in the photography and art world?
A: I feel that it's very important to portray that in my work as I'm a firm believer in feminism. My message is to empower Egyptian women & letting them be themselves without society constraining them. Yes, I do feel that this portrayal is lacking in Egypt & everyone should pay more attention to this subject.
Q: Please talk a little more about the shoot you did with an Egyptian pole dancer which was featured at the Berahet-ha exhibit recently?
A: I've known my friend Maya for a while and I wanted to shoot her in a feminine & empowering way rather than a sexual way as many people view pole dancing. I also wanted to shed a light on it as it's rather unfamiliar here in Egypt or the Middle East in general. This shoot is meant to show to the grace & power of the pole dancer. During the shoot there was a roller coaster of emotions in her studio from being passionate and having fun to being frustrated and in physical pain. The two neon colors Red & Blue reflect them perfectly. Believe me it's not as easy as it looks. There were a lot of fails to get the perfect pose but she nailed it. It requires physical strength, flexibility, patience & practice. My friend has been practicing for a year now & she's pretty good at it.
Q: What goes into a shoot? (the process, brainstorming, equipment etc.)
A: Well for me when I plan a shoot, I like to think of new & edgy ideas. I shoot mostly in the streets as I feel it's more authentic & raw. I use the street's neon lights and signs as my lighting sources. Also, I feel like the connection between the model and the photographer is so important as it's a bonus if the model knows and trusts the photographer as the outcome turns out real & raw. I use a DSLR and a lens with a small aperture so that I'm able to get good low light shots.
 

 

 

View this post on Instagram
Q: In what ways do you feel your work is significant in Egyptian society?
A: I feel that there aren't many female street photographers in Egypt & that it's my role to change that & hopefully inspire more females to go out and shoot as it should be normalized in our society.
Q: What advice do you have for others (especially young women) interested in this same line of work?
A: I'd say just go out & shoot! Don't let anyone or anything stop you or tell you that you can't do something. we all start somewhere. To me gear don't really matter that much if you have a unique vision so you just have to find your style & trust your guts.