Baad El Bahr: New Cultural Centre, Art Space & Library in Downtown Cairo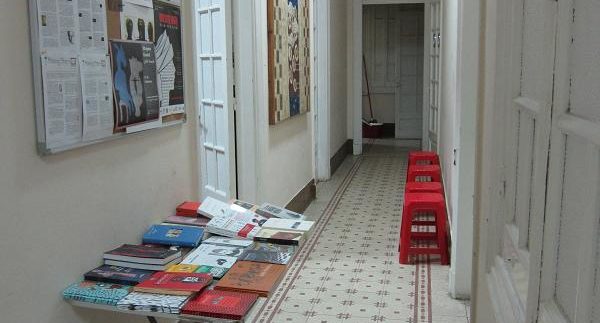 written by
Serena Belcastro
In the lead up to the first anniversary of the January 25th revolution, we saw many arts and culture events celebrating what was, and continues to be, something of huge historical significance. On January 29th,
Baad El Bahr Cultural Association (BEBA)
opened the doors of its new space in Huseein El M'emar Pasha Street in Downtown Cairo.
Meaning 'beyond the sea', Baad El Bahr was founded as a non-profit organisation in 2008 by a set of individuals who were active on the Egyptian arts and culture scene. All from different backgrounds, the founders aimed to create something new and original, distant from the static academic way of thinking and willing to share and propagate the trends of contemporary thought through cultural activities.
BEBA originally worked from Mashrbaia Gallery, the director of the gallery being one of the founders. However, they had no regular meetings and the group, which was made up of freelancers and volunteers, operated on a relatively small budget. At present, five principal members are supported by a further 25 individuals.
Being a cultural partner of the Masry Asly Independent Film Festival, BEBA's members are sensitive to young artists. They aim to encourage and support them while promoting innovation, curiosity, creativity and freedom of expression in the Egyptian artistic panorama. The members actively embrace the social and political changes of the last year and aim at contributing to this important process of reform through their mediums.
The association's aims of that promoting contemporary art ,elaborating thinking strategies and organising exhibitions based on innovative concepts was cemented at the end of 2009 through 'Invisible Presence: Looking at the Body in Contemporary Egyptian Art'. Stimulating, and in a certain way provocative, this BEBA project focused on how the body can come to life in a society where it tends to be imperceptible and consciously or unconsciously altered.
In 2010 BEBA successfully organized the first edition of the 'Cairo Mediterranean Literary Festival: Literature and Humour'. The second edition of the festival in 2011 was entitled 'Literature and the City' and focused on the relationship between literature and the urban environment. The third edition, 'Literature and the Body', will take place during the first week of May 2012 and will focus on the different approaches to the physical body that one can have in literature.
Their latest project, From Rags to Riches, is an ambitious project that has been backed by a European Union grant. BEBA wants to introduce a new way of thinking about public art and motivating Egyptian citizens and artists to use 'upcycled' public art as a way of political and social expression. Upcycling is the process of transforming discarded, reused and recycled materials into valuable conceptual artistic works. The project will end with a spectacular exhibition of giant public art installations in Al Azhar Park, aimed at the spring of 2013.
At present, the association is holding workshops and classes including yoga with Rebecca Porteous every Sunday evening in collaboration with Graffitiartistoys, who only work with recycled materials. Monthly classes in Qigong, Taichi, and Kungfu are also offered with Cathryn Goddard. These classes will allow participants at all levels of fitness to connect more with their bodies and experience vitality that comes from an ancient tradition that can also reduce the stress of the modern world. Plans for regular speaking tours about Egypt and film screenings are also afoot.
A one-year membership with BEBA costs 150LE (100LE for under-25s) and affords you a regular newsletter, invitations to exhibition openings, advance notice of special events and discounts on workshops and courses as well as access to their library with Italian, English and Arabic books for adults and children, for sale and to borrow, as well as Baad El Bahr publications, which are Arabic translations of contemporary Italian novels and short stories. A list of the books is available on their website. Furthermore, once per month BEBA holds a special meeting to get all its members together for brainstorming sessions.
If you want to discover more about Baad El Bahr Association and the activities they propose for the upcoming year, check their
website
for more information.