Cairo 360 Artist Profile: Nermine Hammam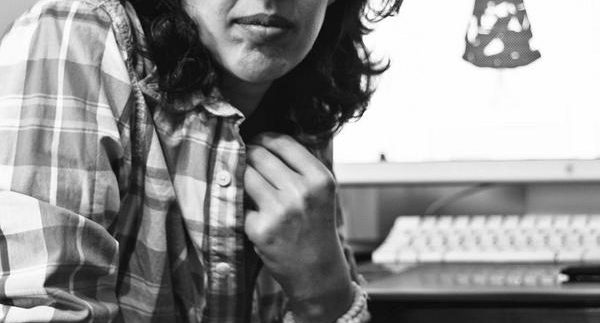 written by
Tanya El Kashef
Nermine Hammam is
anything but simple. Almost a work of art in herself, she walks around carrying
more than what the untrained eye will see; she is a compilation of her whole life's
experiences. As complex and intricate as she inherently is though, there is
also an undeniable warmth that draws you in; as her dog Husky, attached to her
hip at all times, would confirm.
Affectionately known as
Minou, Hammam studied filmmaking at the New York University's Tisch School of
Arts. Though she found success in the field, working with Simon and Goodman in
the US and renowned Egyptian director Youssef Chahine, it did little to satisfy
her drives. After spotting the play of Photoshop on some photographs while
walking down the street in New York, Hammam had what she describes as a moment
of clarity, an epiphany; she knew her calling.
Returning to Cairo with the
encouragement of a friend, Hammam founded Equinox Graphics, gaining recognizable
clients such as Cilantro and Diwan. Interestingly, it was during the years of
establishing this company that she would escape by night to practice her true
passion. Visiting local festivals, or 'moulid' in Arabic, mostly at the
beginning, Hammam spent twelve years taking pictures without exhibiting them.
Her first show, 'Mitigation', was a series of photographs with texts and
collage work; it was criticised for destroying the ethics of photography and
rejected. In this sense, Hammam was the female pioneer of digital photography
in Egypt.
Finding success in the
international art world, Hammam was first introduced in the Netherlands in 2003
and in 2006 went on to show in Paris. Since then, she's participated in the
Athens Photo Festival and the Joburg Art Fair in South Africa in 2008; in 2009
she exhibited in influential art hubs Italy, France and Spain – she also
travelled as far as Ecuador. In 2010 and 2011 her overseas accomplishments
continued to spread with exhibitions in Cuba and Belgium.
Hammam seeks balance and harmony;
she looks for rituals and nature's states of grace, in hopes of finding her own
accord within them. Her art is a journey to uncover layers of consciousness and
dig further beyond the constraints of social norms and expectations. Inspired
by photographer Diane Arbus, Hammam rejects any artificiality and wants to
delve into the margins of society because she believes these places are a true
reflection of the society in which we live, and therefore reveal more to us
about ourselves. 'Metanoia', a large photographic series, came as a result of her spending three months in the Abbasiya
psychiatric hospital and demonstrates Hammam's interest in the idea of
heterotopia of crisis. The exhibition was later censored by the state for being too explicit and powerfully morbid. A video, that came as secondary work with the same title, is a mix of flashing images, Terrence McKenna speech and
fearful, disturbed sounds; the end result is quite frightening.
There is no order or logic to
Hammam's work, it develops organically; she describes her inspirations as
almost subconscious – unintended or controlled. After spending a significant
amount of time in the confines of a marginalised society, it led Hammam to an
entirely different experience. 'Anachrony' is almost the polar opposite of
'Metanoia' in that it is dictated completely by fluidity and the freedom of
movement in nature. Hammam uses her art to relieve her own state of mind;
finding a cure for the weight that overwhelmed her after spending time at the
hospital, she ritualistically healed her psyche by finding release in new
expression. Using her daughter and choreographer Karima Mansour as models, the
work arose from the nature of the desert as it reacted to the models and the
sheets that adorned them from head to toe. No direction was given, or scene set
up; Hammam took the photographs as nature wanted her to, guided by something
beyond her own vision or desires.
The key word behind Hammam's
technique and approach is layers. Her art pieces generally start off as a
photograph or a collected image (she has many from over the years of
accumulating) that is painted over with watercolour pencils. More intriguing
though are the parts we, as outside viewers, can't see. She describes it as 'an
esoteric game'; in almost a childlike way, she hides certain parts of the work
from us, relishing in the fact that she alone knows what's truly there.
'Upekkha', a series with army soldiers, has postcards with messages written on
them but you would never realise that from just looking at the image.
The journey of making art is more
of the appeal to Hammam than sending a message or making a mark on her
audience. Influenced strongly by her dreams and driven by the endless powers of
association that surround us, she values the process of building layers, and
stripping them apart at the same time, to reach her final product. A series
she's been working on hangs on the walls of her studio, on display to be nitpicked
and tweaked to her satisfaction. Essentially a variety of mandalas, Hammam
fills the pieces with intricate details that would take a while to fully
uncover. Again, her inspiration is internal and uncontrolled or directed.
Having said this however,
Hammam's art is still trying to do something. She aims to break unnecessary
boundaries and believes that to succeed in doing this it must be subtle and
done "with water rather than dynamite"; one must also have a lot of maturity
and integrity.

For more information on Nermine Hammam visit her website: www.nerminehammam.com