Cairo Jazz Festival 2014: Who, When & Where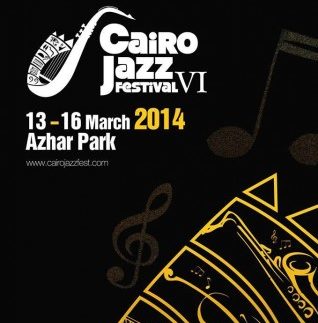 Showcasing some of the best, emerging artists from around the world and keeping the love of jazz alive, the Cairo Jazz Festival is taking over the beautiful Al Azhar Park for four days – from the 13th-16th March. With fourteen musical acts and two stages, along with 'Beyond Stage' performances at Cairo Jazz Club, the triumphant sixth edition of the festival is set to be another winner.
Thursday 13th March
At El Genaina Theatre, Czech band, Urban Trio, kick off proceedings with the help of local singer, Noha Fekry, while Kaz Okumura from Japan and Cairo-based Australian jazz diva, Michelle Rounds, collaborate for a special performance.
Over at the temporary Lakeside Stage, local favourites, Uss We Lazq, perform their eclectic rock sets, while alternative fusion band, Massar Egbari, will be performing their upbeat pieces.
Continuing into the early hours of the morning, Uss We Lazq and exotic Moroccan act, OUM, will host the after party at the first of Cairo Jazz Club's Beyond Stage gigs.
Friday 14th March
El Genaina Theatre welcomes several oddball acts from Europe; the Swiss jazz trio, VEIN, saxophonist, Sylvian Beuf, from France and 'the jazz strength of Berlin', Daerr-Bica-Stick.
Elsewhere, on the Lakeside Stage, Holler My Dear present their acoustic pop set and saxophonist, Soweto Kinch, teams up with hip-hop collectives, Arabian Knightz & Arab Rap All Stars. Also taking to the stage, OUM makes her first appearance of the festival proper, with her unique blends African rhythms and Oriental beats.
Later, Oriental house specialists, Soopar Lox, raise the roof at Cairo Jazz Club's Beyond Stage, before DJ Safi keeps you on your toes 'til dawn.
Saturday 15th March
At El Genaina Theatre, French-Tunisian musician, Nabil Khemir, takes to the stage, armed with an oud and a guitar, before local pianist, Rami Attallah, takes over.
At the Lakeside Stage, meanwhile, Portugese bassist, Andre Cavalo, strums some chords, along with Dutch saxophonist, Yuri Honing, and local singer, Dina El Wedidi. Lebanese alternative rock band, Mashrou Leila, join forces with British saxophonist, Soweto Kinch, for one of the most anticipated gigs of the festival.
Cairo Jazz Club's Beyond Stage lines up Austrian band, Holler My Dear, for an evening of jazzy pop numbers, before French-Tunisian oud player and guitarist, Nabil Khemir, and Michelle Rounds take the spotlight.
Sunday 16th March
Brining the Cairo Jazz Festival to a close, the Lakeside Stage welcomes legendary award-winning composer, Omar Khairat, for the grand finale.
Throughout these jam-packed four days, not only will there be live musical performances, there are also a number of workshops and activities on offer, tailored to all ages and interests. For tickets and further information, visit the Cairo Jazz Festival website.