Cairo Symphony Orchestra Opens its 54th Season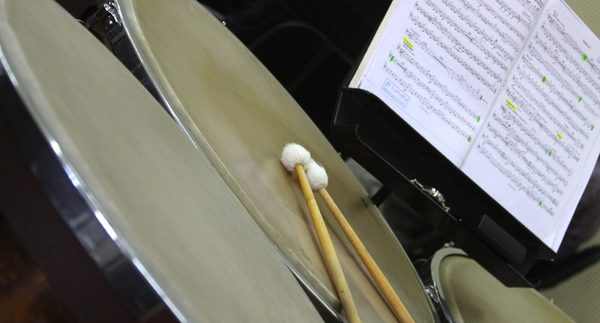 With its brass shined, pipes
cleared and horse hair waxed, the Cairo Symphony Orchestra broke the silence at
the back room of the Cairo Opera House, playing the first notes of Robert
Schumann's first symphonic work.


Just days before the opener to its 54th
season, the Symphony Orchestra gave Cairo 360 an exclusive preview at its first
day of rehearsals. Wedged in a corner between a grand piano and a harpsichord, we listened
in as the orchestra practiced two of three pieces scheduled for the upcoming
performance: Schumann's Symphony No. 1 and Igor Stravinsky's Pulcinella
Suite. Joseph Hadyn's Trumpet Concerto completes the program.
In his second year leading the 95-member
orchestra, principal conductor Jiri Petrdlik swayed his baton to the regal
brass introduction, arched his shoulders over the podium and made frog-like
expressions miming the spurting staccato of the French horn. Just beats before the
dramatic trill of flutes, reeds and drums, the Czech maestro quickly
stretched his arms across and shrugged in disapproval; and the music came to a
halt.
"Pee-pee, pa, pa, pa," Petrdlik mimicked
the opening section. "Please give the same energy to the first upbeat note and
express it openly as if change were coming. From the beginning, from the beginning.
Good, and three!"
The orchestra followed his cue
and repeated the bar until perfected. The group meets four times a week for three-hour rehearsals before each performance.

The meat and potatoes of the
Saturday night event, Schumann's symphony, aptly and more fondly known as the Spring
Symphony, kicks off a season with perennial performances and emphasis on youth
and emerging talents.
"For the first time, we are playing some pieces that we have never played before like Bach's Mass in B Minor and the special children's show," says principal flautist Peter Olah in his eighth year with the orchestra.
Calendar highlights include a Rising Stars program in December that
will spotlight young musicians of promise and a Young People's Concert in April
featuring Peter and the Wolf and the Carnival of the Animals.
Attendance to symphony orchestra concerts last season had been low, threatening the viability of the fifty-four-year-old institution. Some musicians blame it on public relations, others on the classical genre itself.
"The ballet and opera attracts a larger audience because it is more visual," says horn player Adam Debreczeni.
Whatever the reason, a disconnect exists between the Egyptian public and a musical tradition rooted elsewhere. Despite this, the orchestra stands resilient and hopeful that the new season with new programme offerings would draw a greater following.
Every Saturday from now until
June 22, save for a Monday night New Year's Eve gala concert, the Cairo Symphony
Orchestra performs at 8pm at the Main Hall of the Cairo Opera House. Tickets
are available at the Cairo Box Office.