CIC: New Director, New Space, New Projects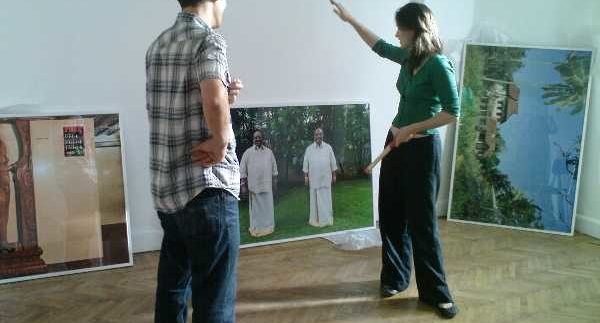 written by
Aleksandra Sekinger
Since its inception in 2004, the Contemporary Image
Collective (CIC) has established itself as one of the major players in Cairo's independent contemporary
art scene. However, since the departure of long-time dynamic duo director Edit
Molnar and curator Aleya Hamza in spring 2009, it seems that CIC has fallen off the
radar. All of that is about to change. There's an exciting current happening at
CIC that's sure to grab the attention of artists and art appreciators city-wide.
With a shiny new venue, an experienced new artistic director and exciting
projects underway, CIC is about to generate a whole lot of buzz.
New Director: Armed with a background in fine arts and curatorial
practices, Mia Jankowicz is injecting unprecedented energy and enthusiasm into
the collective's projects as CIC's new artistic director. A graduate of
Goldsmiths University of London, where she received her MA in Visual Cultures, Jankowicz
spent much of the last five years as the Residencies Curator of Gasworks, a contemporary independent art
space in London.

Jankowicz felt an instant attraction to our mad but
endearing Capital when she first came to Egypt for a pilot curatorial
workshop at Townhouse
Gallery of Contemporary Art in 2007. Now, she's back and ready to start
some ambitious initiatives. Judging by what she has accomplished in the few first
months of her position, Jankowicz is steering CIC in an entirely new and
invigorating direction.
New Space: CIC has officially left its old villa in Mounira and
relocated to a Downtown space,
not far off from Talaat Harb
Square. The new CIC space is an entire floor of an
old, colonial apartment building. With high ceilings, original floors and
beautiful framing, the new space is charming Downtown architecture at its best.

One of the many exciting features of the new space is
the division of administrative and exhibit spaces. Upon exiting the elevator,
the space to the right is the production space, which consists of staff
offices, the library, the darkroom, the lecture hall and an artist studio. The
space to the left is the exhibit space, which consists of a railroad-style
apartment of five continuous rooms that hold endless possibilities for
interesting displays of images and video.
New Projects: CIC's new space will be holding its first exhibit on
June 24, 2010. Indian photographer Anup Mathew Thomas will be presenting two
bodies of work, Light Life and View from Conolly's Plot, which are being shown for the first
time in the Middle East. His works are
seemingly disconnected photographs from places and cities that are displayed
with a tantalisingly small bit of text to stir the audience's curiosity of the
site.
In July 2010, CIC will initiate an Open Content/ Open
Source Reading Group. Driven by a curiosity for the concept of creative commons,
the Reading Group will address a critical issue of the contemporary art world:
in a contemporary world involving a great deal of creative exchange and
distribution, why do we think of an artwork as a single object owned, created
and to be profited from? Exploring issues such as media piracy, collaborative
art production, multiple authorship and artist copyright versus 'copyleft', the
Reading Group promises to be a dynamic discussion for interested parties. The
group will tentatively meet once every two weeks from July to September 2010.
In late September 2010, CIC will hold an intensive
ten-day photojournalism workshop covering the Egyptian parliamentary elections.
The workshop will be called 'CIC Alternative News Agency' and will involve
knowledge-sharing between artists, photojournalists and citizen journalists. The
collaboration of these three professions aims at exploring photojournalism
opportunities in Cairo
by infusing them with contemporary visual art and activism.
Stay plugged in to Cairo 360 for CIC updates, events and
exhibits.