D-CAF: Reviving the Cultural Heart of Cairo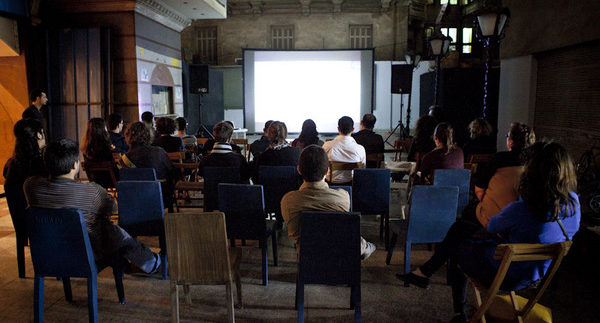 Featuring
renowned international artists to shaaby MCs and regional talents, the Downtown
Contemporary Arts Festival, better known as D-CAF, is entering its final week.
The
festival is spread over a number of venues in Downtown Cairo, including the
Townhouse Gallery, Radio Theatre, AUC's Greek campus and Falaki Theatre, the
Goethe Institute and the Viennoise Hotel; all in an
effort to revive Egypt's cultural scene.
The
two-week programme includes more than a hundred artists from Europe, North
America and the Middle East participating in workshops, art exhibitions, music
concerts, dance and theatre performances, lectures, as well as open mics.
Some notable
performances in the first week of the festival included Tim Etchells' 'Sight is
the Sense that Dying People Tend to Lose First' and the Urban Visions' Program 'We
Are Not From Outer Space'. Other performances that stood out were the Urban Visions Program's street dance performance and Ant
Hampton's 'OK OK' and 'Guru Guru'.
'We Are Not
From Outer Space' – a collaborative performance by Rita Vilhena, Mohamed Shafik
and Thomas Proksch, was a definite highlight from the first week of the
festival. Engaging, raw and shocking – at often times humorous; the provocative
performance forces audiences to re-examine how humanity is regarded and
understood.
Designed by Ant Hampton and Gert – Jan Stam,
both from the UK, 'OK OK' is one of the few shows running for the entire two
weeks of the festival. Carried out entirely by the audience, the performance is
open to four participants at a time. We were not sure what to expect when
confronted with the apparent lack of 'performance' in the experience; we found
ourselves with a script in hand, reading words that often articulated our
confusion and mirrored our thoughts. The initial feeling of alienation followed
by a slow, recalibration of expectations is refreshing and quite amusing; it
provides an insightful exploration of communication among strangers.
Similarly,
"Guru Guru" is an interactive multimedia show where audiences are given
headphones and receive instructions and commentary on what to do and how to
feel. The notable thing about both of these performances is that – unlike the
traditional separation of spectator and performance – the show is non-existent
without its audience. Also, while the limitation on the number of participants
can be logistically inconvenient, it is this precision that makes the
performance a rare personal experience that keeps you talking about it long
after your fifty minutes are over. Both shows must be booked in advance and are
available in both Arabic and English.
In the
process of re-discovering Downtown themselves, the D-CAF organizers have
reclaimed Radio Theatre, on Talaat Harb Street, as one of the festival's main
venues. The picturesque theatre, in
great contrast to the humdrum of Downtown, was once a key location for the
cultural scene and it is a wonder that the theatre has remained closed to the
public for over fifteen years. As the main venue for music events, this
cultural and historical masterpiece, however, can be limiting for audiences who
do not want to watch performers on stage, but would rather enjoy a night of
music out on the town. Luckily, it is within walking distance of a number of
popular nightspots.
Despite
this minor downside to the venue, music performances by Hassan Khan, Neobyrd,
Fathy Salama and the Sharkiyat Group, as well as DJ Jade and Maurice Louca were
well received by audiences. Shaaby MCs Sosta and
Shaawaza also hosted a night of music with funky shaaby beats being played to a
large crowd.
The
audience turnout has varied, with numerous cultural events happening around the
city. But while many of the featured artists are internationally renowned, most
Egyptian audiences are not familiar with their work and therefore feel no
association with them. D-CAF has indeed drawn on more than just Cairo's culture
aficionados, however we'd hoped to see bigger numbers and a higher diversity
within the crowd.
Having
said this though, the festival has provided a rare opportunity for Egyptian
artists to work with and present their work alongside internationally renowned
artists. One thing that the festival organizers do deliver on is quality; where
most performances exceeded our expectations. The works are admirably well
crafted and well produced; bringing alternative approaches to theatre, dance
and music.
In the
duration of its final week, D-CAF's programme features Issam Bou Khaled's 'Banafsaj'
– an abstract theatre performance from Lebanon; 'The Speaker's Progress' by
Sulayman Al Bassam and Sabab Theatre from Kuwait – a satire that explores
modern communication, censorship and politics in the Arab world; and a film
screening by Nils Tavernier at AUC's Downtown Greek campus.
This week's
highlights in music include Kareem Lotfy, Mahmoud Refat, Erik Truffaz,
Dubosmium, Filastine, and shaaby DJs Wizza, Okka and Ortega; as well as Bikya
and Ramsi Lehner.
Most
shows do not require prior reservation, so go out on a limb and pay a visit to
Radio Theatre or Townhouse Gallery for a night of music or art. For the full
programme of events please visit our events page.