Darb 17 18: Contemporary Art in Cairo's Fustat Community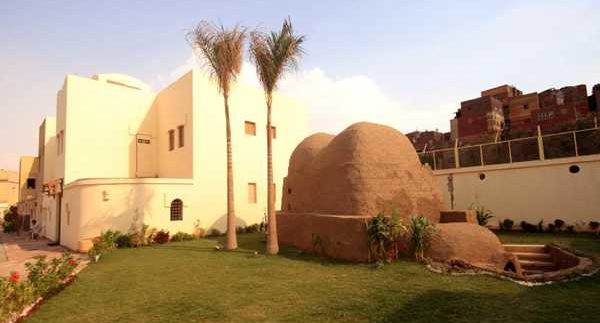 Over the past few
years, Cairo
has witnessed a contemporary arts movement bloom in unbelievable ways through
the increasing support of local visionaries. Non-profit and independently owned
spaces have opened up one after another in an effort to bring the art scene out
into the Cairo
community.
In 2008, local
artist and cultural activist Moataz Nasr took his comprehensive vision to the
next level with the brainchild known today as Darb 17 18 Contemporary Art and
Cultural Centre.
Darb 17 18's
location in the Fustat area near Coptic Cairo is tucked away amongst some
of the most ancient buildings of this phenomenal city. Its location in the
centre of a vibrant craftsmen community uniquely speaks for the Centre's vision
of being a jumping-off point for advancement of the contemporary art movement in Egypt,
as well as engaging with the social and cultural groups within the Fustat
community.
The gallery
itself goes beyond the basic function of a place to display art; it encourages
experimentation and greater perspective into contemporary art in the area as
well as a keen sense of aesthetic tradition and artistic merit. Darb 17 18's
vision includes the exhibiting of unseen local artists' work alongside international
artists that are new to Cairo's
art scene; providing a cross cultural exchange and opportunities for
advancement.
The Centre also
offers various workshops, educational programs, poetry performances, open-mic
nights, and other public viewing opportunities.
In just four
months, Darb has hosted three festivals, including the Art Beats Festival in May
2010, bringing together various artists and musicians on a local and
international level. The festival's success was driven by Darb's vision for diversity
and its creation of new opportunities for the Cairo community to become more involved in
the arts.
In late June
2010, the Refugee Film festival hosted screenings of over twelve films, telling
the story of refugees both worldwide and on the local level in order to raise
awareness of the situation. The films were shown in the Centre's open-air
theatre, while giant bean bags were placed around for comfortable seating.
Aside from festivals,
Darb 17 18 hosted a fashion show in May 2010, displaying recycled fashions
created by a students' workshop that used only organic and reused materials.
Simultaneously, the 'Uncovered' art exhibit featured artists' work from Egypt and Spain , which aimed at discussing
the relationship between fashion and society.
Most recently, a
film screening was given of Garbage
Dreams; a critically acclaimed documentary by Egyptian director Mai
Iskander, which covers the Egyptian garbage collector community. Catch the
trailer here .
Since 2008, Darb has
successfully fashioned a lively, communal art space that continues to
flourish far beyond the walls of Darb's serene location, and out into the rest
of the city. More information
on Darb 17 18 Contemporary Art and Culture Centre can be found on the website . Make sure to keep checking back with Cairo 360 for all of the
exciting, upcoming events at Darb.