Ganzeer Sets a New Standard for Cairo-Based Design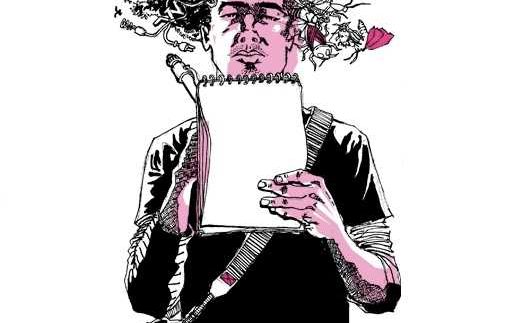 written by
Aleksandra Sekinger
If there's something that the city of Cairo consistently lacks, it's a level of conceptual and functional design. The poor urban planning, kitschy graphic designs and utter lack of sidewalks for pedestrians all point to a city in desperate need of a healthy injection of good design.
On a quiet street in Heliopolis, far away from the hustle and bustle of the streets, lies the creative studio space of Ganzeer, the multi-disciplinary artist and creative visualiser behind the design studio Ganzeer: Experimental Design Unit.
Ganzeer is an ambitious self-taught artist and a Cairo native who believes that sneakers, comic books and bikes can save the world. Many things excite this man, including creating new typefaces, analysing fonts, innovating industrial design, superheroes and peanut-butter-and-jelly sandwiches. This playful character with an undertone of serious ambition is very much reflected in the kind of work that Ganzeer chooses and executes.
Over the last five years, Ganzeer has shown in over a dozen exhibitions in over five countries. He has released three publications and has participated in half a dozen workshops in Egypt and throughout Europe; all while running a commercial business out of his Cairo studio. Locally, his work has appeared in several art spaces including The Townhouse Gallery and the Palace of the Arts. His art prints have been retailed at Friction, Sequoia and Philosophy Interiors in Zamalek, as well as Alchemy in Maadi. Some of Ganzeer's commercial work includes mural art and corporate identity commissioned by Eurodeli in Korba, Rickey's Café in Mohandiseen and Up Close & Personal in CityStars.
Last February, Ganzeer exhibited an installation called Slip of the Tongue at the Palace of the Arts in the Opera House. The installation was part of a group exhibition titled Why Not?, a collaboration of thirty-five Egyptian artists. Ganzeer's installation was the exhibit's finale in the rotunda, and featured a series of five paintings related to slips of the tongue trapped in a giant mouth.
Ganzeer transformed all of the windows of the exhibition hall into glass-stained art of a mysterious man that graces the cover of one of his publications, From the End . The installation was complimented by free copies of a pamphlet, which can be interpreted as Ganzeer's illustrated Bible, filled with food for thought on philosophy, life and love.
Filled with an eternal affection and respect for superheroes and underdogs, Ganzeer has also published two comic books. Last year, the Contemporary Image Collective (CIC) published the comic book Ruins of a Feature ; a collaboration with George Azmy that projects a futuristic Egypt inspired by popular Egyptian pulp fiction. Ganzeer's other comic strip Everyday Heroes is a ten-page comic strip on how everyday people, like garbage collectors, are heroes in Cairo.
Last summer, Ganzeer participated in a workshop in a small, rural Jordanian village called Shatana, where artists were able to choose how their art could contribute to the village. Fascinated by the power of visual communication and signage, he developed a signage system for Shatana that included signs for a local mini market, church and bus station.
There are a few young designers in Cairo shaking up the status quo of design in Cairo, and Ganzeer is among the best of them. Continually pushing boundaries, striving for the functional and creating what is beautiful, Ganzeer deserves all of the recognition he receives. He is arguably one of the few young graphic designers in Cairo–and internationally–that intuitively understand the aesthetic and functional values of design.
Despite his international recognition, Ganzeer remains a Cairo-centric designer, exhibiting non-commercial pieces in gallery spaces, giving talks around the city and still running a successful design studio.
Ganzeer plans to release his first series of furniture pieces with a local Cairo distributor in the next few months.