Greater Cairo Public Library: Study Haven Rough Around the Edges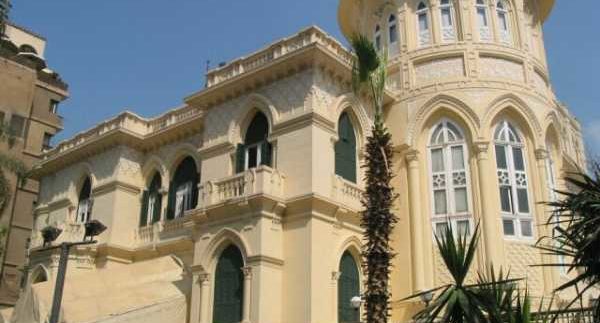 Have you ever
heard of the Greater Cairo Public Library? Well we had, but didn't realise it was housed in a beautiful villa in
Zamalek, until it piqued our interest while strolling past it one balmy evening.
You have to leave
your ID at the door, and though it was renovated by the Ministry of Culture in 1995,
it's starting to show its wear again, especially on the creaky staircase. However, the ceiling detail is undeniably
gorgeous and it's such a great venue in which to house books, loads of books– it's
the second largest public library in Egypt after the National Library.
The Nile-side
palace once belonged to Khedive Ismail's granddaughter, Princess Samiha Kamel. When
she died in 1984, it was bequeathed to the state for cultural activities. The palace consists of three floors plus a
basement, with the top floor being the tower research centre. The library houses almost 170,000 volumes,
and though you're not allowed to borrow any, you're free to make copies and of
course, read them there to your heart's content.
It's really quiet
and serene, a fabulous place to study with some rooms boasting tranquil Nile views– it must have been an amazing place to live in.
If you're more of a basement troll, the vast space downstairs may be more to
your liking, with stack after stack of thick books.
The collection
includes about 120,000 Arabic books and about 37,000 in other languages, mostly
English. The assortment covers fine arts, humanities, social sciences, 'pure'
and applied sciences, technology and a children's library. It also has almost 2 million audio-visual
materials like videos, CDs and microform, in addition to 900 newspapers and
magazines, and 500 maps. The library's
holdings are fully catalogued and easily searchable by computer; and if at
first you don't succeed, you can always ask a very nice librarian for help.
They offer special
services for researchers in the 'field of Egyptology and Cairo' –
we didn't ask what this was but it probably refers to the 'Egypt and Cairo Research Centre' housed
inside. They even host cultural and
artistic programming, including lectures, seminars, conferences, research
groups and theatrical performances.
At the time of our
visit, almost no one was there and it was super quiet. This may be one of the
best places in Cairo to spend an afternoon reading, browsing antiquated art
books, meeting a study partner, surfing the net, or just gazing at the Nile in
peace, and all of this for free. Give it
a shot; you may enjoy it.