'It's Complicated': ACT Presents Love, War & Comedy at Rawabet Theater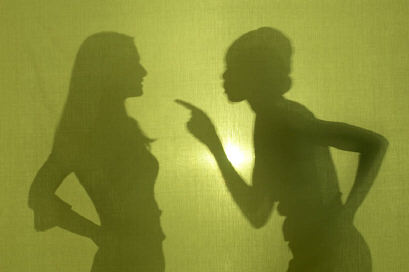 Love is the purest of emotions. Absolute bliss.
Rainbows and puppies. Relationships however, are often a different matter.
Roller coasters and troubled waters. With this theme in mind, Alumni Community
Theatre (ACT) presents 'It's Complicated'.
Opening tonight in Downtown Cairo at Rawabet Theater, 'It's
Complicated' presents an evening of light-hearted plays exploring the darker
side of dating and marriage. Drawing inspiration from AUC's 'Famous for 15
Minutes' festival of the 1990's, 'It's Complicated' will feature four one-act
plays showcasing the talents of a cast and crew mostly made up of AUC alumni.
ACT, for those who aren't so familiar with it, is no
amateur group. Its membership is made up of AUC alumni from as far back as the
1960s, and the organisation has continued to grow and expand. This is no charity
for the starry-eyed wannabe actors of Cairo either. Anyone who has been
involved with any ACT production can attest that these guys mean business. Like any artiste, they're ambitious, demanding and obsessive – characteristics that have yielded undeniable
results, as can be seen in ACT's production of Ben Elton's 'Gasping' earlier
this year.
'It's Complicated' opens with Surprise, written by
Mark Harvey Levine and directed by Alaa Shalaby; a quick and witty play about a
psychic who can't help but drive his girlfriend mad. Nothing should come as a
shock to a man that can see into the future, but as the title suggests, you can
expect a twist-ending from this zippy show. Surprise
is followed by Check Please written
by Jonathan Rand and directed by Adham Zidan. This whacky, rapid-scene show
chronicles two young people on a series of bizarre blind dates from hell that
start poorly and only get worse for the unfortunate protagonists.
After intermission the evening continues with Miss You, written by David Auburn and
directed by ACT's artistic director, Leila Saad. The feisty characters of this
hilarious show weave a tangled web of love and lies – all from their mobile
phones. The evening closes with Wanda's Visit, written by Christopher
Durang and directed by Mido Abou Youssef; an off-the-wall play about a married
couple whose rather boring lives are turned upside-down with the visit of the
husband's zany, former girlfriend, who seems to cause trouble wherever she
goes.
'It's Complicated' promises to delight audiences with
its clever and relatable humour. If you've been avoiding the theatre because of
its often-pretentious reputation, this community theatre evening is sure to
change your mind. The performance begins at 8PM on Tuesday 15th,
Wednesday 16th and Thursday 17th. Space at Rawabet Theater is
limited, so make sure to arrive early or call 01008286339 to reserve tickets (20LE).