Mahmoud Mukhtar Museum: Father of Modern Sculpture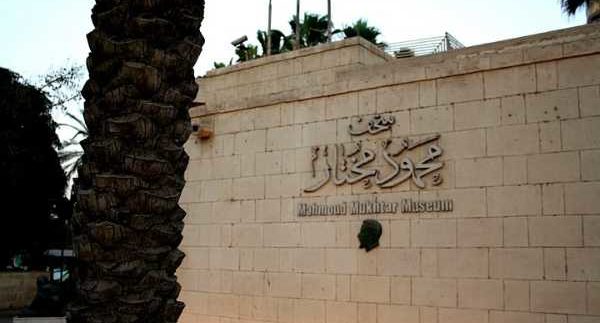 While the Mahmoud Mukhtar
Museum might sound like yet another
museum found on the posh island
of Zamalek, the history
behind its existence is interesting.
The museum itself
was designed and built by renowned Egyptian architect Ramses Wissa Wassef with the
sole purpose to house the works of Mahmoud Mukhtar, the father of Egyptian
modern sculpture. Born in the Nile Delta region, Mukhtar moved to Cairo in the
early 1900s, to begin his work as an artist, soon leaving to persue his studies in France.

As a student at the Ecole des Beaux Arts, Mukhtar began creating some
of the most prominent sculptures that grace Cairo today, including his two
monumental sculptures of Saad Zaghloul as well as the Mother of Egypt
statue situated at the front gates of the lovely Giza Zoo. Upon moving back to Cairo, Mukhtar then went on to found the Egyptian School
of Fine Arts.
From Mukhtar's impact
on Egyptian contemporary art to the fact that the museum is solely dedicated to
his worth; art lovers and history fans will appreciate this small museum.
Situated on Tahrir Street off Galaa Bridge
in Dokki, the museum's grounds are simply decorated and entrance costs only 2LE
for Egyptians and foreigners alike. The museum itself is really small, intimate
and aesthetically pleasing with its cleanliness, dim lighting and clean
arrangements of some of Mukhtar's famous pieces.
The museum is divided
into various halls, displaying pieces from plaster reliefs to marble busts and
bronze statues. Mukhtar's Jar Bearer piece is quite remarkable at first sight,
with miniature versions also located elsewhere in the museum. The smaller
pieces come perched atop rotating bases, allowing you to fully view the pieces
and contemplate their beauty from all sides.
Three wall-length
plaster reliefs are broken down, each into three parts that Mukhtar completed
at different periods of his life. Visually impressive, the reliefs depict Egypt 's early
20th century with many of theimages containing scenery of agricultural life.
Seeing as how national
icon and revered political leader Saad Zaghloul was a focal point for many of
Mukhtar's pieces, Mukhtar's love for Zaghloul is made clear with various busts
and marble pieces denoting the man's greatness. While the main Saad Zaghloul
statue is in Alexandria,
the smaller pieces within the museum are composed of marble and bronze.
In the Hall of Serendipity,
an interesting collection caught our eye, containing eleven miniatures that
represent each province within Egypt.
The miniatures aren't necessarily detailed, but are obviously created with
precision and an eye for line.
Not only are the
halls of the museum solely dedicated to the work of Mukhtar, there is also a
memorabilia room containing letters from the artists, in addition to his famous
sitting chair and winter coat. To take it a little further, there's also a
viewing room that contains… Mukhtar's tomb? Yes, his tomb. Kind of odd but an
intimate part of the viewer's experience, nonetheless.
The museum is
definitely worth checking out and an easy one to fully examine as it's small
and not overwhelming in the slightest sense; unlike many of the other museums
around town.

The museum is open 10AM-1:30PM and 5PM to 9PM from Tuesdays to Sundays.
Tickets are 2LE; and don't miss out on a few sculptures on the lawn.