Makan: A Place of Cultural Keepsake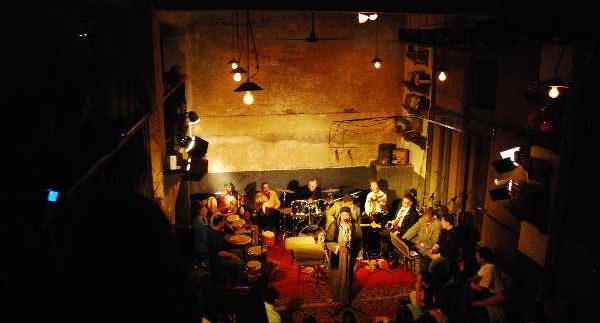 Situated on the corner of Saad
Zaghloul and Mansour Street
in the shabby yet chic neighbourhood of Mounira, Makan provides a cosy ambience
and stellar atmosphere for live music performances and other art forms that
have historically breathed life into the Egyptian community.
More notable than
its convenient location, however, is Makan's admirable purpose; the
establishment, which is also known as The Egyptian Centre for Culture and Art, serves
to be much greater than just a modest venue to hear a little music every once
in awhile.
Makan's aim as a music venue
and art space is to not only to record and present traditional Egyptian music
in a sacred yet relational way, but also to encourage individuals to take part
in the re-awakening of a culturally significant Egyptian arts and music scene. In
recent years, its significance has been seemingly glossed over by uniformity,
modern conventionalism, and lack of aspiration to, heaven forbid, experience
anything culturally relevant and historically rich.
For the heritage of this
timeless arts and music scene to survive, ranging from dance and music to
poetry and spoken word, venues such as Makan are critical for conservation.
On Tuesday evenings, as you enter
the eclectic dwelling space of Makan's performance area, various instruments will be found lining the stage, ranging from a saxophone to the
Egyptian arghoul (woodwind instrument) and enough percussions to have you moving
to the anticipated beats before the show even begins.
Nass Makan takes the stage and
you realize the beauty of tradition and the peace in keeping it alive. Whether
you choose to sit in the dimly lit loft overlooking the performers or catch a
seat close enough to feel the vibrations of the bass, the interaction between
the performers and the audience provides an intimate setting to truly embrace
the music of the moment. From the jazz-infused rhythms, combined with
traditional Egyptian and Sudanese styles, to the sultry, powerful voice of
Sudanese singer Asia , Nass Makan is a sweet,
musical jewel that shouldn't be missed.
The fresh sound and symbolic
nature of the music is a rare find these days. If a free Tuesday can't be
found, the Mazaher ensemble plays on Wednesdays, including a tamboura
(six-string lyre) and manjour (leather belt with goat hooves). The Mazaher ensemble
is one of the last Zar performance groups in Egypt ; so it's a unique and enlightening
experience.
Don't miss the self-serve tea
and karkade station and make sure to arrive early to guarantee good seating. CDs are often sold at the door after the performances, providing a great
way to not only support the artists but to continue being part of Makan's
ambitious aim of keeping the traditional Egyptian arts and music scene alive.
For more information on other
activities at Makan and The Egyptian Centre for Culture and Art, including
their resident centres for artists, visit their website or call 27920878 .