Mawaweel Festival: Culture Aplenty, One Week Left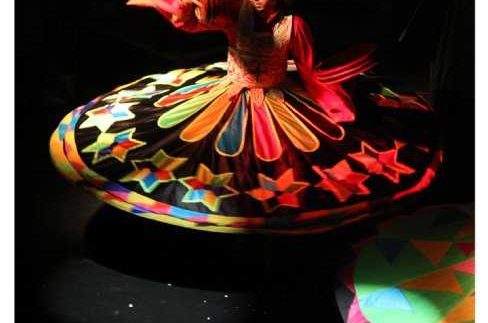 Darb 1718 and Cairo
Jazz Club Agency's Mawaweel Festival is one week into their Ramadan
festivities in Cairo. From the historical beauty of the Old Cairo streets to Darb's
grassy oasis under the Egyptian sky, there couldn't be a more splendid location for this evening festival to take
place.
As soon as the Tannoura dancers and band take the
stage, it doesn't take long to feel the positive energy in the air; beautifully
accompanied by the folkloric music and the mesmerising visuals of the spinning
hues. The backing band provides a peaceful yet powerful energy for the dancers
as well as the crowd. This performance is bound to keep you in a trance and may
be one of the best Tannoura performances that you will see in Cairo.
Although most of Mawaweel's activities are for one
night only, the festival's bazaar is scheduled to continue next weekend as
well. That being said, don't miss it! Situated along Darb's alleyway lit with pottery
lanterns, local businesses have tables filled with arts and crafts for sale. Whether you're simply browsing through handmade items or picking up a gift or
two, there's definitely a unique collection including non-PETA-friendly,
fur-strapped sandals.
Artist Fadwa Attia's label Fofo sells fun t-shirts,
including ones with Arabic superhero designs, while other tables boast some
seriously awesome jewellery. For 45LE, brightly coloured stone necklaces caught
our eye with their summery, fun take. More traditional items include charm
bracelets with the kaf fatma symbol as well as silver-tiered earrings for 15LE.
However, our favourite items for sale were hand-created leather goods, such as embroidered
satchels (75LE), strapped coin purses (55LE), as well as key chains and picture
frames. Also for sale at the bazaar were tote bags, beaded table lamps,
bohemian-styled skirts, and a test-taste table of chocolate fondue… sohour, anyone?
All proceeds of the bazaar go to various social organisations,
including the Wady Craft Shop and African Group for Development; so knowing that
your purchase will help less fortunate people makes the experience that much
better.
For a small charge, sohour is offered on the grounds
of Darb; so head out to the centre and don't miss out on this one-time cultural
event! Check Cairo
360's events listings for the full schedule and the event's Facebook page for more
information.