Museum of Modern Egyptian Art: Art is Everywhere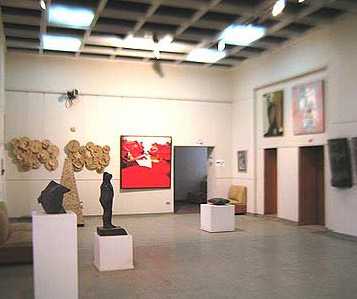 While this quasi-art
enthusiast will jump at the chance to scope out a collection of modern art that
has yet to be seen, the term modern art itself can often leave one feeling
slightly lost in its grandeur.
As the modern art
era includes a broad range of styles ranging from expressionism to pop art, you
may never know what to expect when visiting a modern art museum, especially in Cairo. While the styles
are quite diverse, much of the philosophy behind many of these exquisite modern
pieces is the same. With philosophy in tow and a few pieces in mind, itching to
be viewed, the Museum of Modern Egyptian Art was next on the list.
After reopening
in March 2005 following extensive renovations, the museum's location on the
grounds of the Cairo Opera House couldn't
be more ideal. As you pass through the Opera House gates, you'll find
blossoming gardens and paved walkways; great for taking a pleasant stroll before
entering the museum. Don't miss the
sculptures sporadically situated on the Museum's front lawn but watch it; if
you enjoy the outdoors too much, you may find yourself drenched in an instant
sweat.
Now that Cairo's temperatures are
rising, take a gander and usher yourself inside where it's cool and relaxing.
Don't miss the ticket booth and be prepared to search for the ticket attendant;
who was nowhere to be found during our visit.
The museum's
structure is built in a rectangular fashion with four cascading columns
surrounding the main entrance. Once inside, the area is dimly light, while
spatial seating provides room for contemplation. The high ceilings and widely
mounted walls give way to the undeniable fact that there is literally art everywhere.
While the
collection holds quite a large number of pieces, it can be overwhelmingly
daunting to say the least. In total, the vast collection consists of 20th and 21st century Egyptian art work by
over 95 artists. Although a
few international pieces have made their way onto the walls as well, they are
few and far between.
Nevertheless, a
majority of the pieces hail from the Egyptian classical and impressionist
schools. Various portrait paintings by renowned artist Ahmed Sabri can be found
on the lobby level, including Lady with a
Fan. Also not to be missed is Mohamed Mokhtar's bronze sculpture, Bride of the Nile, which was completed
in 1929. Mokhtar's love for and active involvement in the revival of Egyptian
sculpture is felt through the poise and smoothness of the sculpture's lines.
The first and
second floors are more like a maze, with twisting hallways and back-lit corners
that are easily missed. Ongoing themes of depicted urbanization and revolution,
all in relation to Egyptian life, can be seen throughout many pieces. Ezzedin Hamouda's oil-on-canvas piece Wooden Huts by the Sea is quite lovely; tightly composed yet playful,
dotted brightly with detailed colour. It is bound to have any Nuweba lover pining
for the sea in no time.
While the
dimensions gallery was closed during this reviewer's visit, a return trip seems
worthwhile. Containing even more art, the gallery also serves as a cultural
activity centre for seminars and lectures by various artists.
A café and a gift
shop, which sells a collection of postcards and other memorabilia, are also
situated on the museum grounds, providing a place to rest your feet and pick up
a gift or two.
The museum is
open 9am – 3pm and 5pm – 9pm (except Mondays), taking a mid-afternoon
tea break. Tickets cost 10LE for Foreigners, 5 LE for Foreign Students,
2LE for Egyptians, and free for Egyptian Students; making for a great and
affordable outing that is both culturally enriching and relaxing on a hot
summer's day.