Museums You've Probably Never Been To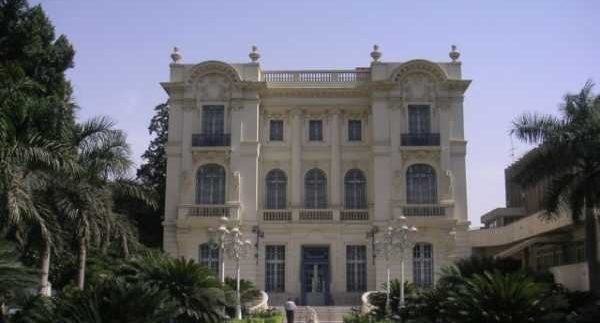 We all know that Egypt has a wealth of historical sites and a rich overlap of cultures spanning thousands of years. However, only a fraction of us have actually ever seen the Pyramids or been to Luxor, let alone the Egyptian Museum. So, we've decided to spotlight a few places to whet your cultural appetite if you should ever find yourself with nothing to do on a Saturday afternoon.
Gayer-Anderson Museum
This museum is actually two joined 16th century houses built on the outer wall of the Mosque of Ibn Toulon. British Major and Doctor John Gayer-Anderson lived in the house in the mid 1930s to 1940s, and it now houses his collection of books, art, furniture, antiquities and oriental artefacts that he gathered on his travels. After Gayer-Anderson donated the house to Egypt upon his return to England, King Farouk named him Pasha and the house was made into a museum. The courtyards and balconies are beautiful, and the mashrabiyya rooftop is a must-see. And just in case you think you're too cool for museum school, even James Bond paid this place a visit in The Spy Who Loved Me. How d'ya like that? Open 8AM to 5PM daily. Tickets cost 55LE for Foreigners, 20LE for Foreign Students, 2LE for Egyptians, and 1LE for Egyptian Students.
Mr. & Mrs. Mahmoud Khalil Museum
Mahmoud Khalil was a politician in the 1940s and a bona fide art collector. His 1911 villa, which Sadat later lived in, is a natural museum for his extensive European art collection. The museum houses mostly impressionist paintings, including pieces by Rodin, Delacroix, Gauguin, Toulouse-Lautrec, Manet, Monet, Van Gogh, Pissaro, Rubens and even a Picasso. The house itself has touches of art nouveau amidst neoclassical design and gives a glimpse of how the aristocracy lived before the revolution. Open 10AM to 5PM, last tickets at 4PM, closed on Mondays. Tickets cost 25LE for Foreigners,
12LE for Expats, 5LE for Egyptians, and 1LE for Egyptian Students. For more information, check out our feature.

Museum of Islamic Ceramics
More interesting even than the ceramics it houses, this graceful 1924 villa was designed by a Turkish architect for Prince Amr Ibrahim. The mansion looks like the child of Brighton's Royal Pavilion and the Taj Mahal. Its intricately carved walls and vintage bathroom are stunning, making the perfect display for colourful plates, ceramic pots and tiles dating between the 9th and the 18th centuries.The back garden is reserved for the Gezira Art Center, which itself contains several galleries and hosts rotating contemporary exhibitions. The quiet museum is the perfect place to escape hectic Cairo crowds. Open 10AM to 2PM; 5PM to 9PM, Closed
Fridays. Tickets cost 25LE for Foreigners, 12LE for Expats, 5LE for Egyptians,
and 1LE for Egyptian Students. Check out our feature on the museum here.
Mahmoud Mukhtar Museum
This museum is dedicated to sculptor laureate of independent Egypt, Mahmoud Mukhtar. Having studied at the Ecole des Beaux Arts in Paris, his striking modern sculptures won many awards and changed the face of the Egyptian art-scene. His involvement in the Egyptian opposition influenced his famous sculpture Egypt's Renaissance, which stands opposite the Cairo University bridge. The Wafd Party also inspired him to sculpt two statues of party leader Saad Zaghoul, one in Alexandria and the other in Cairo at the square named after him. The Mother of Egypt statue outside the entrance to the Giza Zoo is another one of Mukhtar's works. The modern gallery building was designed by Egyptian architect Ramses Wissa Wassef, who also established a textile art centre you can check out here. Open 10AM to 1:30PM; 5PM to 10PM, closed on Mondays.
Museum of Modern Egyptian Art
Situated on the Cairo Opera House grounds, this museum showcases 20-21st century Egyptian art by over 95 artists. The collection includes pieces by Mahmoud Mokhtar, Mahmoud Said, and Ragheb Ayyad among others. Recently renovated, the museum also has a lovely café and gift shop, which sells an impressive collection of postcards and posters of the collection. Open 9AM to 3PM; 5PM to 9PM, closed
on Mondays. Tickets cost 10LE for Foreigners, 5 LE for Foreign Students,
2LE for Egyptians, and free for Egyptian Students. Yet again, check out our feature.

The Coptic Museum
The beautiful Coptic Museum houses the largest collection of Coptic artifacts in the world; about 15000 of them. Built in 1910 by donations from the local Coptic community, it traces the history of Christianity in Egypt. Displaying a rich mixture of Egyptian, Greek, Roman, Byzantine and Ottoman influences, it also showcases the transition between Pharaonic and Islamic art. The museum examines the prominence of Christian symbolism in everyday Egyptian life, and shows how historically Pharaonic icons were Christianized – halos replacing sun discs and ankhs becoming crosses. The collection is divided by medium and includes textiles, frescoes, stonework, woodwork, metalwork, glass and ceramics. The museum also houses 1200 of the Naga Hammadi Library texts, a few of which are on display, including manuscripts from the Gnostic Gospels. After your visit, relax and replenish in the quiet garden and café. Open 9AM to 5PM, last tickets at 4PM. Tickets cost 50LE for Foreigners, 25LE for Foreign Students, 4LE for Egyptians,
and 2LE for Egyptian Students.
*Hours and ticket prices are subject to change so it's always best to call ahead.