written by
Haajar Abu Ismail
To those unaware, Rahet Bally, founded by Nadia Gamal El-Din, is a company dedicated to all things motherhood. You can get more exposure to their important mission at their upcoming event: The Rahet Bally Experience – Be Our Mamalisa!
As inspired by the Mona Lisa, the world-renowned painting of the slightly smiling woman, Rahet Bally's "Be Our Mamalisa!" is not only the biggest family event in Egypt but one of the most important. Happening at the Walk of Cairo in Sheikh Zayed this Saturday, November 26th, women have much to gain by attending the art-focused event.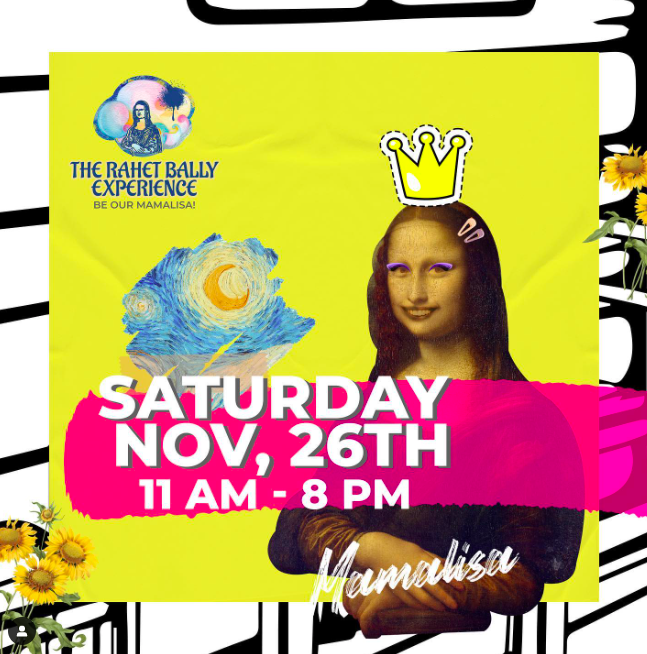 Art takes shape in various forms throughout our life, in fashion, home decor, cooking – even preparing a cup of coffee. Motherhood can be recognised to be one of the greatest art forms of all. For those interested in these connections, "Be our Mamalisa!" is fully dedicated to highlighting the role art has in influencing the lives of women, especially in ways we may not realise.

As such, the event will have incredible artworks on display, featuring pieces from the world-famous Frida Kahlo, Salvador Dali, Van Gogh, and Andy Warhol. On top of that, there will be theatrical performances on site for visitors to enjoy throughout the event. While "Be Our Mamalisa!" certainly has a female-centric theme, anyone who appreciates quality art has something to gain by attending.
Not only that, but the Arab Origami Centre and caricature artist, Makhlouf, will have a presence in The Rahet Bally Experience. The exhibitors and sponsors will participate in offering artistic shows and fun activities for children and mothers in an inspiring and uplifting environment full of competitions and installations suitable for all family members.
Rahet Bally founder Nadia Gamal El-Din said, "I'm very proud of this event; we present unique installations and activities for the entire family to experience for the first time. My happiness is amplified by seeing the smiles and happiness of all family members. Thank you to all the sponsors and exhibitors who have supported us from the very first experience. And a special thanks to the team and the families who come from all parts of the country to attend this unique event."