The Fashion Studio: Moulding Cairo's Fashion Future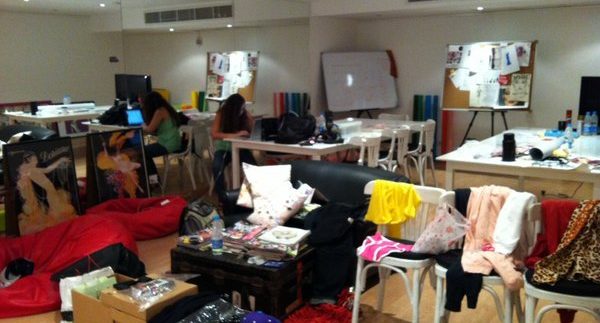 written by
Tanya El Kashef
Tall, blonde, and with an inimitable sense of style, Bosaina
El Kahal has almost literally taken Cairo by storm. Better known as Bosaina II,
daughter to Egyptian actress Raghda, she has proven to be more than just a
pretty face. Singer, actress and certified fashion stylist, she can now also add
entrepreneur to her CV.
While Cairo's art scene is well embedded in popular culture, it
wasn't too long ago that studying art or design was deemed ridiculous and a waste
of time. Over the past few years though, a new attitude has emerged; one that understands the importance of creative expression, how enriching the creative process is and, more importantly, one that realises the value of
breeding these artistic abilities. The right attitude is merely a
starting point, though; it's the implementation of theory that matters more and this
is what Bosaina pinpointed immediately when she founded the Fashion Studio.
"The Fashion Studio was
conceived purely out of a lack of quality services and education in the
creative fields here in Egypt, especially in fashion", she explains of the initiative which was started up earlier this year. Having studied fashion styling herself at Instituto Marangoni in London, the twenty five year-old saw an opportunity to
share her education and subsequent work experience in the field with those
unable to attain it in Egypt. "I see it as a way to pay it forward to a new
generation of raw creative talent".
It's true that there are fashion courses available in Egypt, but many
have found the content to be lacking and the overall experience to be shallow. With workshops on styling, illustration and photography among others, the Fashion Studio aims to wield local talent for a greater
good. "The workshops are less about teaching, and more
about mentoring", according to Bosaina. Bringing in professionals from their respective fields, she asserts that they don't just teach students what to do, but more importantly what not to do.
The workshops are designed to cover all areas of their focus; for
example, fashion styling is split into theory and practice. The former includes history of
fashion and education on significant designers and brands, as well as the study of
trends. The practical section includes making mood boards, learning
research skills, editorial and celebrity styling, creating look books and
completing a portfolio. While the set-up varies, all the
workshops are structured within a holistic format.
Amuse in Zamalek hosts the Fashion Studio's activities. Using
the upstairs gallery space, Bosaina was drawn to it because of its inspirational
quality and the similarity between its approach and the one she saw the studio
moving in. Amuse itself is a bright, high ceilinged and edgy space that carries
a great selection of fashion items as well as home accessories, making it a
very logical choice.
The Fashion Studio doesn't restrict itself to the classroom and
spreads its horizons in several directions. Keeping an open door policy, Bosaina is pleased that they've discovered a lot of great talent just by having the space open
for collaboration. Through international and local contacts, they've also
helped past students find work on projects, as well as seen other students join them
full time – as she simply puts: "the relationship doesn't just end when the
workshop finishes".
Recently producing a photo shoot for website, Greater than Fashion, as well as for Hebz Boutique and Amina K, the Fashion Studio is expanding. "We want to work as [a] visual arm to creative and
unconventional companies", says Bosaina, as she prepares to launch a creative agency that includes
photography, web and graphic design, as well as video and editing services.
Keeping in the mind the struggle that most young entrepreneurs face
financially, some services, such as creating a website, will be tailored to be
more affordable while equally urbane.
There is something very compelling about this project and you just
need to check out their Facebook page to understand why. The Fashion Studio breathes
new life into the local fashion industry where Cairo can begin to see hints of
originality and a platform for experimentation.

"Fashion has its own language
and we speak it fluently at the studio" says Bosaina proudly. A space collaged with colours, scraps of
fabric, outfits, mood boards, it's exactly as one
would imagine a fashion studio to be.
Workshops at the Fashion Studio last one month and are either four
or eight classes, with prices ranging from 800LE to 2500LE. For more information
check their website: www.thefashionstudio.org