Townhouse Gallery of Contemporary Art: Cairo's Leading Independent Art Space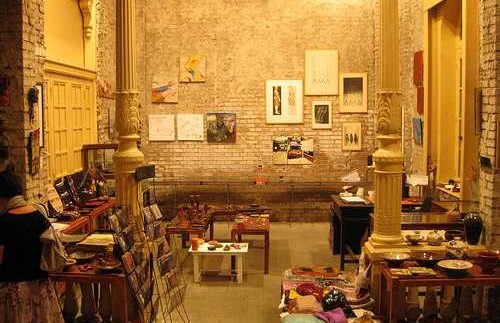 written by
Aleksandra Sekinger
In many international cities, established art spaces
are usually located in high-class neighbourhoods and boast a rich clientele.
Townhouse Gallery of Contemporary Art goes strongly against that grain; situated
in a Downtown automobile district and showcasing talented local and
international art for the masses.
Opened in 1998, Townhouse Gallery of Contemporary Art
has made its name over the past decade as the most active independent arts
space in Cairo.
Not only does Townhouse exhibit some of Cairo's
most talented local artists, the gallery also encourages the Cairo community to make art and explore their
creative side by participating in their workshops.
In recent years, Townhouse has exposed Cairo to some very cool projects, including Breaking
Boredom, an exhibit organised by Ahmed Foula featuring Cairo's hottest up-and-coming graphic
designers, including artists like George Azmy, Mahmoud Hamdy and Ganzeer.
In 2009, Townhouse created a Model
Citizens installation, which was a collaboration of over a dozen artists
that worked with over 10,000 photos of Townhouse's neighbourhood to create an
extremely detailed miniature model of the neighbourhood. Narratives on the
neighbourhood's history and what changes the community would like to see were
documented.
In 2010, Townhouse uncovered an era of Egyptian art
history that most Cairenes had never heard of, which is the Egyptian Surrealist
Movement. Organised in the style of a 'happening,' the exhibit aimed to present
the work of the Egyptian Surrealists, or the Art and Freedom Group, as they
called themselves, in a way than honours their attitude towards art and life.
The main spaces used for Townhouse exhibits are the
Factory Space and the First Floor Gallery. The Factory Space is affectionately
named so because it was once a paper factory before Townhouse acquired it in
2002, and it is the large ground-floor space next to the gift shop. The first-floor gallery
is the first floor of the building on Nabarawy
Street , which holds the Townhouse sign. The second floor of the same building holds the Townhouse library,
which hosts occasional lectures and film screenings, as well as studios for local
and international artists.
The Rooftop Studio, an initiative that Townhouse launched
in 2009, is an artist-managed studio space on a rooftop located on Nubar Street in Downtown
Cairo that gives local artists a space to develop personal projects. By
creating a communal space for local artists, artists get feedback from the
public and fellow artists from different backgrounds. Visitors are welcome at
the Rooftop to discuss personal art with the artists.
Townhouse is not only a gallery; it's an art
collective that cares about the social conditions of the community. Every
Friday, Townhouse holds workshops for working children who often work most of
the week to support their families and receive little education. The Friday
workshops allow children to explore their creative side and interact with
peers.
Every Saturday, Townhouse holds workshops sponsored by
SAWA in the Factory Space which are open to anyone looking to explore individual
artistic interests. Sometimes there is a set theme, and some raw materials like
flexible wire and charcoal are supplied for free. Most of the time, there's
just loads of paper, pencil and paints for free use. Even some famous local
artists show up at the workshops; creating a very positive environment for both
the established and the amateur artist. Participating in Townhouse's SAWA
workshops is a great way to become acquainted with the Cairene art community.
Located in a busy quarter off Champollion Street, Townhouse stands at
the intersection of two small side streets. If walking on Champollion Street away from Tahrir Square, take
the right before the kofta eatery Abu Khaled. Ahead, there's Ahwa Taka'eeba, a street café serving
shisha, juice and tea. Walk past the ahwa; and you'll see the Townhouse Gallery
sign.
Although there has some harsh criticism about the
originality of some of its exhibits, Townhouse Gallery has successfully influenced
the way art is represented in Cairo,
and continues to keep the Capital on the pulse of the contemporary international
art community.
Stay plugged in to Cairo 360 for events, reviews and news at
Townhouse.