'Unloaded': Mina Farouk Mina Carves His Niche at Cala Art Gallery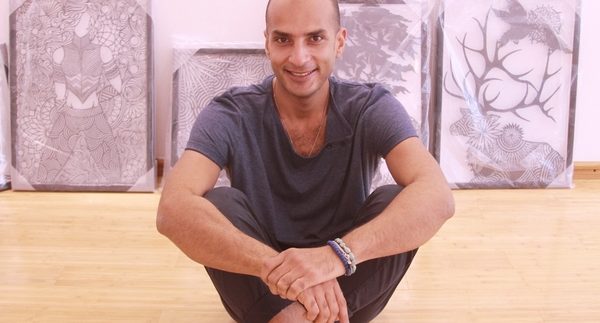 "For me it's a way of cutting away all the
gunk in life. I zone out and work through my issues. It helps me understand
things," Mina Farouk Mina explains how he arrived at creating the 34 works to
be shown in his upcoming exhibition 'Un-loaded' at Cala Art Gallery in Zamalek.

Surrounded by his works still sealed in
plastic film, the 29-year-old artist sat with Cairo 360 to unload and hash out a session of 'art
therapy' ahead of his Sunday opening.
A sculptor by training, Mina carves intricate
creations from construction paper with a nifty X-Acto knife, a vat of patience
and a fastidious attention to detail.
"I love details. They say the devil is in
the details; I say god is in the details," he says.
Mina's subjects range from the natural to
the ethereal. Women in graceful poses surrounded by floral, tribal and
geometric patterns – that look like optical illusions at first – relate an
obsession with the magically real. But what nabbed our noggins were two pieces that
demonstrate restraint and forethought.
In the first piece, three people stand beneath
a giraffe with its head cached in the trees; while the other depicts a deer and a pair of doves. The wispy edges of the trees, the blotched spots on the giraffe, and the
smooth contortions of the antlers reveal Mina's mastery over the medium.
"We've
completely detached ourselves from the natural world in our concrete boxes. I'm
trying to show we're all connected somehow. You die you get buried and you get
used as a fertilizer for another plant to grow. It's a whole cycle," he says.
The theme of attachment merges well with an
art form that wholly depends on connected fibres. Each so-called 'scraping',
stencil or cut-out is painstakingly knifed out of a single sheet. Every line
and curve is connected producing an artful silhouette that resembles a stained-glass
window or mashrabeya. Ideally, the
finished designs would suspend between two transparent surfaces and placed against
a window or a light source for full effect. But instead, the exhibition will
present them on framed white canvases.
Born and raised in Cairo, Mina attributes
his craft and artistry to his education at Cairo American College in Maadi over
his studies at the American University in Cairo, but admits that the method to
his madness that cuts through his works is cairorevamp_usered in therapy.
"I used to go to this art therapist in Downtown. And he was sitting with me. And he said, 'Just draw.' And I
started drawing. I left crying because apparently what I was drawing was giving
him so much information from my subconscious," he says.
See Mina Farouk Mina's subconscious 'Unloaded'
at Cala Art Gallery, with a vernissage on 23 September at 7pm. 'Unloaded' runs through 11 October.