written by
Nesrien Abdelkader
While the beauty and elegance of the Marriott Mena House, Cairo is no secret to Egyptians, it's getting global recognition from the world-renowned Travel + Leisure Magazine. They named Marriott Mena House, Cairo among the top ten city hotels within the MENA region.  
Every year, the people at Travel + Leisure put together a list of the best city hotels, destinations, 
resorts, and more in their World's Best Awards survey. The magazine is the largest travel media brand in the United States and has an audience of over 4.8 million readers. This year, those readers voted for Egypt's Marriott Mena House, Cairo to be crowned in 2022.  
If you haven't been to this paradise overlooking the Great Pyramids of Giza yet, then you're missing out on a once-in-a-lifetime experience as you stay in the lap of luxury whilst marvelling at one of the world's seven wonders. 
Since it began receiving guests in 1886, Marriott Mena House, Cairo has been a symbol of Egyptian culture. The historical landmark was named for the King Mena, the ancient ruler who established the first Egyptian dynasty, and it has hosted royalty, presidents, and celebrities alike.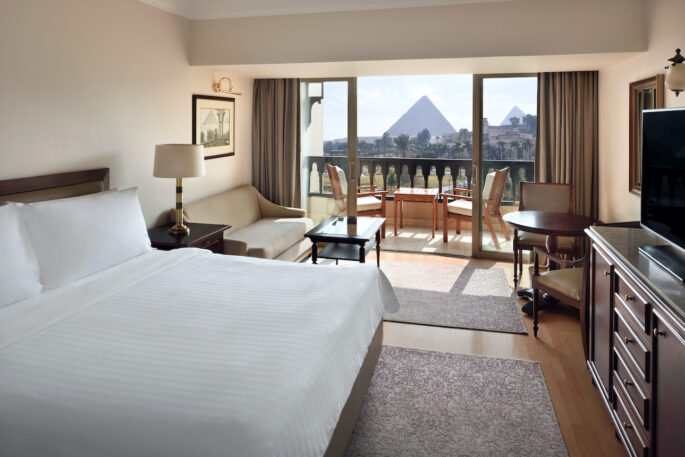 After Marriott International acquired the hotel in 2018, it has undergone a total transformation to elevate your experience and offer guests the service they can expect from Marriott in this iconic location. 
It's easy to see why the hotel was named among the best in the region, with guests having 331 lavish rooms to choose from, alongside suites that offer stunning views of the pyramids amidst the lush greenery. 
Strolling through the gorgeous 40-acre gardens, you may find yourself feeling a bit peckish. Guests can partake in a delectable dinner with various international and ethnic cuisines at the famous 139 Pavilion, Moghul Room, or Alfredo restaurant. 
A trip wouldn't be complete without some much-needed rest and relaxation, and guests are welcome to use the hotel's leisure facilities which include an outdoor heated pool, a Health Club, and the Saray Spa. 
Marriott Mena House, Cairo is also the perfect venue for your special day with 8700 square metres of sprawling outdoor venues, ideal for gala receptions, elaborate weddings and intimate gatherings. If you're mixing business with pleasure, the hotel also offers over 1400 square metres of indoor meeting spaces.  
Returning guests might want to consider enrolling in Marriott International's loyalty programme to receive exclusive benefits and rewards, including MClub executive services.
Your stay at the Marriott Mena House, Cairo will go down in history alongside the celebrities who once graced the hotel's halls, thanks to its unbeatable service, amenities, and charm.