A Secret Voyage by Zahi Hawass: Egypt's Most Expensive Book Yet?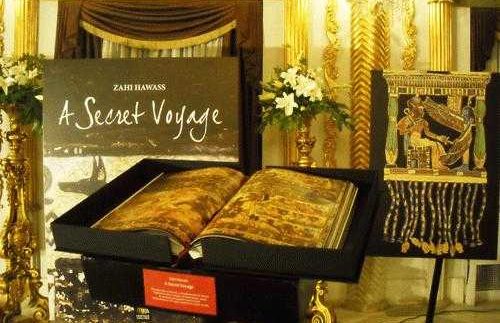 written by
Soraya Morayef
One often wonders how exactly a book earns its value: is it due to its
famous author, valuable information, cover design or perhaps the quality of its
paper? In the case of A Secret Voyage, a limited-edition release by
famed archaeologist Zahi Hawass, the book should perhaps contain gold-leaf or
diamond-encrusted pages for its whopping 22000LE price tag.
Published this March, the 400-page book has silver- (not gold) gilded
pages and a silk book cover. The book itself contains highly valuable photographs, and
all copies are personally signed by Hawass. Again, 22000LE?
UK publishing company Heritage World Press has published only 750
copies of the book, 50 of which are being distributed by AUC Press in Egypt. A
Secret Voyage chronicles Hawass' years of experience as an Egyptologist and
the Secretary General of Egypt's Supreme Council of Antiquities.
The book
covers his many archaeological discoveries, such as the Valley of the Golden
Mummies and the mummy of Queen Hatshepsut. Most recently, Hawass made
international headlines when he announced his team's discovery of the cause for
Tutankhamen's mysterious death (spoiler alert: it was malaria) and embarked on
a mission to bring back the most famous pharaonic antiquities to Egypt, such as
the Rosetta stone from the British Museum and a bust of Queen Nefertiti at
Berlin's Egyptian Museum.
According to the AUC Press release, Hawass' anecdotes
promise to be entertaining, which we don't doubt: having watched several of his
TV interviews and documentaries; we believe that Hawass is charismatic in that
Mofeed Fawzy way.
Italian photographer Sandro Vannini supplies the 166 photographs
accompanying Hawass' book. Using cutting-edge digital techniques and special
lighting, he captures stunning high-resolution images of many of Hawass'
discoveries, including the intricate details of a tomb painting, a gold shrine
engraving and many other treasures.
One of Time
magazine's 100 most influential people in 2006, Hawass will surely have
insightful tales on the most fascinating Egyptology discoveries in the past
century. As valuable as his tales may be, we still can't quite fathom the
22000LE price tag. Surely this book belongs in a museum like the antiquities
themselves.
Egyptology students and fans of the white-fedora-wearing Egyptologist
may appreciate browsing through A Secret Voyage, allegedly available at all AUC
bookstores. We would have loved to review this book for you, but sadly we can't
afford the price tag since we have mouths to feed; namely our own. Whether the silver-leaf pages, the high-resolution images or even the book's clamshell case justify the down-payment-for-a-car price tag remains to be seen.