The Egyptian market has seen a lot of startups booming in various fields. The new generation of innovators, creatives, developers, engineers, and other gurus have pursued their dreams and are taking long strides towards achieving them.
Today, it's not a surprise to see young people launching a startup in Egypt and taking the market by storm. But, this time, we're talking about something bigger, an international entrepreneurial mogul who has been involved at the top level of the biggest companies worldwide, Amir Hegazi.
Amir has proven his worth at many posts, including General Manager at Talfazat, General Manager at KIT Digital, and Director of Marketplace at Souq.com. He's currently the Co-Founder and Managing Partner of intoMENA Group, an advisory company working with international businesses interested in tapping into the MENA region.
But aside from his professional achievements, what we're interested in today is Hegazi's latest accomplishment, his book, Startup Arabia. Amir has been working on the manuscript for quite some time, and after a lot of deliberation on the direction and title of the book, he finally launched it at the end of July.
It didn't take him long to see the fruits of his labour. His book quickly topped the list of the new best sellers on Amazon. Startup Arabia focuses on the MENA region in terms of stories of success in the Arab world. He talks about a number of tech entrepreneurs who've managed to realise their concepts and ideas into hugely successful companies. The book aims to be an inspiration and mentor for all young entrepreneurs looking to pave their way in the Middle East.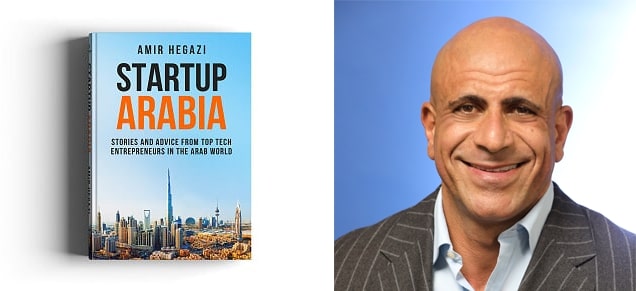 In its full name, Startup Arabia: Stories and Advice from Top Tech Entrepreneurs in the Arab World, you'll see never before seen details of the engine room that these entrepreneurs relied on to succeed. It discusses everything from how they got their idea, how they overcame challenges, and how they managed to learn from the trouble they've faced. These entrepreneurs also give advice to the next generation of entrepreneurs, and make their claims for what the MENA region needs to sustain and develop the ecosystem which allows startups to grow.
This book is an excellent opportunity for young entrepreneurs in Egypt and all around the Arab world to learn from real-life stories. Never stop following your dreams, learn, grow, and achieve.