El Fishawy: The Place for Ahwa, Tradition and the Sometimes Bizarre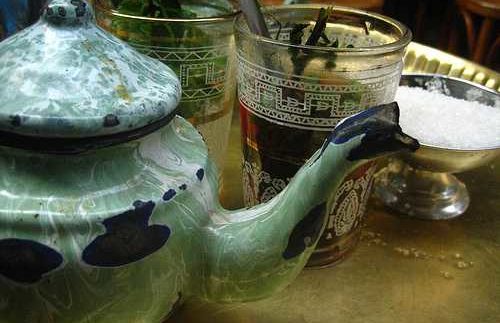 'Loving greetings I present to my beloved home, El Fishawy, God grant it and its owners long life, fame and happiness. Your loyal son, Naguib Mahfouz, December 1982 ' – The El Fishawy Guest Book

El Fishawy is the Grande Dame of Cairo's coffee houses. For over 250 years, it has played host to artists, musicians, students and intellectuals, including – most famously – Nobel laureate Naguib Mahfouz, who wrote parts of his prize-winning Cairo Trilogy in a back room there. Ahmed Rami, who used to write songs for Oum Kalthoum, also frequented the coffee shop. Even King Farouk once sat in one of its narrow halls.
What began as one man's way of socializing and being hospitable to his community has now become a local institution. Oustaz El Fishawy, first name unknown, last name meaning mirror, used to serve coffee to his friends in a narrow alley in Khan El Khalili every night after the maghreb prayer. As the gatherings grew and became the talk of the town, Ahwat El Fishawy developed into a coffee shop and it has been that way ever since.
Generations of El Fishawys have worked to preserve the old charm that so strongly represents Egypt's past. Yet considering its impressive status, the coffee shop itself is quite small, filling what could have been a forgotten hallway with as many chairs as possible, plus the street seating outside.
But what it lacks in size it makes up for in character, with its enormous, signature cracked mirrors, mashrabeya details, dusty chandeliers and the absence of doors and windows. Even crocodiles and deer antlers adorn the yellow walls, alongside framed newspaper clippings chronicling the ahwa's history and Oustaz El Fishawy's biography.
The uncomplicated menu options here are fresh juices (mango, strawberry, pomegranate, lemonade and fruit cocktail), at about 10LE, as well as karkaday, sahlab, coffee, and teas of black, mint, and anise. Mint tea is a favourite for its refreshing taste and aroma, as well as the pleasing visual of oriental tea glasses laden with mint branches and old enamel tea pots losing their paint; giving the impression that this is the way it's been done for centuries.
Shisha, inexpensive for around 5LE, is also on offer, in classic apple and apricot, among other flavours. If you find it difficult to choose, feel free to decipher one of the two Arabic menus on the wall, or ask your waiter. The service is quite prompt, especially considering the crowds, but no one comes here in a hurry and the prominent pastime is to linger; so it doesn't matter much.
Arguably the most celebrated coffee shop in the Arab world, El Fishawy is only rivalled by Damascus' El Nawfara, and is always lively and overflowing with people. Daytime sees various tourists thirsting for a glimpse of authenticity, while evening melts into locals catching up with friends or simply passing the time.
Locals have fond childhood memories of going with their parents to El Fishawy and spending hours watching the fascinating and sometimes bizarre clientele. Weekend nights often see oud players and poetry readings, passing on the history that thrives in its walls.
Make your way there to enjoy this relic from another time while it still shines. It's open 24 hours a day, 7 days a week, and is located just a few streets below the Hussein mosque.