Ramadan in Cairo 2014: Five Great Shisha Spots in Cairo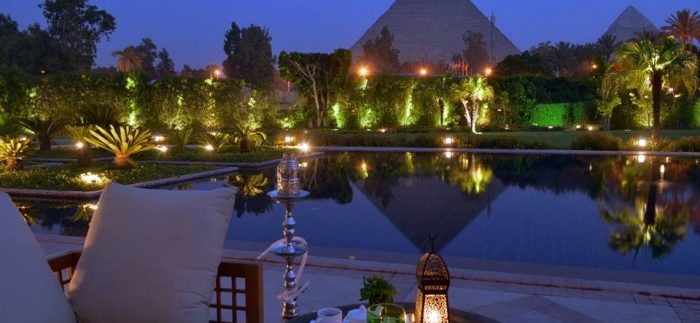 Egyptians are an uncomplicated people; we don't ask for much and we'd like to think that we have the capacity to appreciate the small things in life – none more so than that divisive contraption called a shisha. Appreciation for the hookah – as the Yanks have taken to call it – becomes paramount during Ramadan. It's a palate cleanser, of sorts, and the influx of wacky new flavours – the increasingly popular bubblegum flavour is a particularly strange one – has made the water pipe as fashionable as it is widely available across Cairo.
Shisha enthusiasts tend to have their favourites when it comes to cafes and lounges, but Ramadan is an occasion that deserves something different. Here are five places that all but guarantee a perfectly trouble-free, restful Ramadan night.
New to legendary hotel, Mena House, 139 is nothing short of magical. The lounge – tactfully surrounded by fountains and greenery – is in itself a slick, shiny new hangout spot perfect for late Ramadan nights, but the real pull here is the incredible view of the Pyramids.
Not as well-known as other venues on this list, Baladina's rather kitsch, rural-chic ambiance make it somewhat of a hidden treasure. Located in Sheikh Zayed's Arkan Mall, the café-restaurant keeps things simple in keeping with their quirky, laidback approach to Ramadan.
Naguib Mahfouz Cafe & Resturant

Finding a little peace and quiet in the colourful Khan El Khalili is a thankless task, but the extent to which Naguib Mahfouz provides such a rare commodity makes it a fantastic place to enjoy shisha and tea. Throw live music and a heavy dose of nostalgia, and you have a perfect Ramadan night out.
Taking over Le Pacha 1901's rooftop in Zamalek, Wahawi ticks all the boxes. Now in its second year, the Ramadan kheima has proved to be popular with Cairo's younger crowds. With a great view and location, a suitably laidback atmosphere, Wahawi takes you out of the Cairo's usual gaudy Ramadan hubbub.
An obvious one, maybe, but Wel3a continues to enjoy success as the peak of the modern shisha culture. Popular all year round for frequenters and residents of Zamalek, its Aboul Feda Street branch enjoys a Nile-side setting, with all manner of shisha flavor on offer.