2 Million is the Magic Number for Huawei P8 Winner
They say that the best things in life are free. It's a sweet sentiment, yes, but my bank account might suggest otherwise. If you asked Islam Keshk, however, he'll side with the former.
You see, young Islam was – as so many of us do – browsing the library of random that is Facebook when he stumbled on the Huawei Facebook page, on which he innocuously clicked 'Like' on and went on with his business as usual. What he didn't realize, however, is that he was the page's 2 millionth fan – a moniker that lead him to winning a brand spanking new P8 Gold courtesy of Huawei Egypt.
In addition, Islam and friends were treated to an extravagant dinner at Cairo 360 Editors' Choice Award winning restaurant, Mandarine Koueidar at Downtown Katameya Mall – as far as Islam understood, however, he was there for a pleasant dinner and nothing more. Little did he know that the people around him weren't diners, but the Huawei team, who surprised him with the grand prize of the P8 Gold.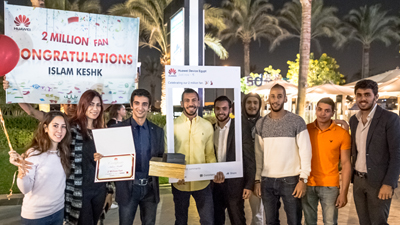 The competition is the cherry on top of a busy year for Huawei in Egypt, who have made a mark this year with the release of the P8 and G8 handsets and a collaboration with Egypt's popular band, Cairokee, on the occasion of their twelfth anniversary, as well on-ground activations and general beachside tomfoolery along the North Coast during the summer.
For more information on Huawei Egypt, click here.